I just got off the Grand Canyon West Skywalk and I have to tell you that it's breathtaking and amazing. It's difficult to put into words but it's truly a unique experience. I plan to post a photo later to give you an idea what it's like to walk out on a see-through glass platform that extends 65 feet over a 4,000-plus-foot drop to the canyon floor! Yikes!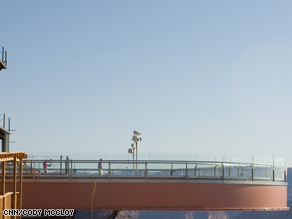 The Skywalk hangs out about 65 feet off the canyon rim.
Our 1978 Scout truck is giving us mechanical problems for the first time since we began our journey five days ago. It appears to be a problem with a clogged fuel filter, which is a common glitch when running on biofuel - especially in an older vehicle - as we're doing. Kind maintenance people here at the Skywalk have offered their expertise on the problem.
I wanna give a shout out to a previous poster, Nic "Scoutman" Hawker, who offered us advice on keeping Scout engines cool. Please send us some contact info, Nic. We'll be in touch.
And last night, in another challenging development, we followed some dubious directions en route to the Skywalk. Those directions took us on a two-hour unintentional detour down a 56-mile dirt road. We made it here OK, but as you can imagine, that was, um, fairly interesting.
So far, we've trucked some 1,200 miles and purchased about 40 gallons of biofuel since departing San Francisco toward our final destination in Atlanta.
Internet access via cell is very spotty here. Hope to send more info/pics soon.
Thanks for followin' along with us!
- Cody
Posted by: Cody McCloy
Filed under: environment • Road trip