Like anxious parents trying to make sure everything is perfect for their child's wedding... organizers of the Beijing Olympics are pulling out all the stops to put on a good show for the world.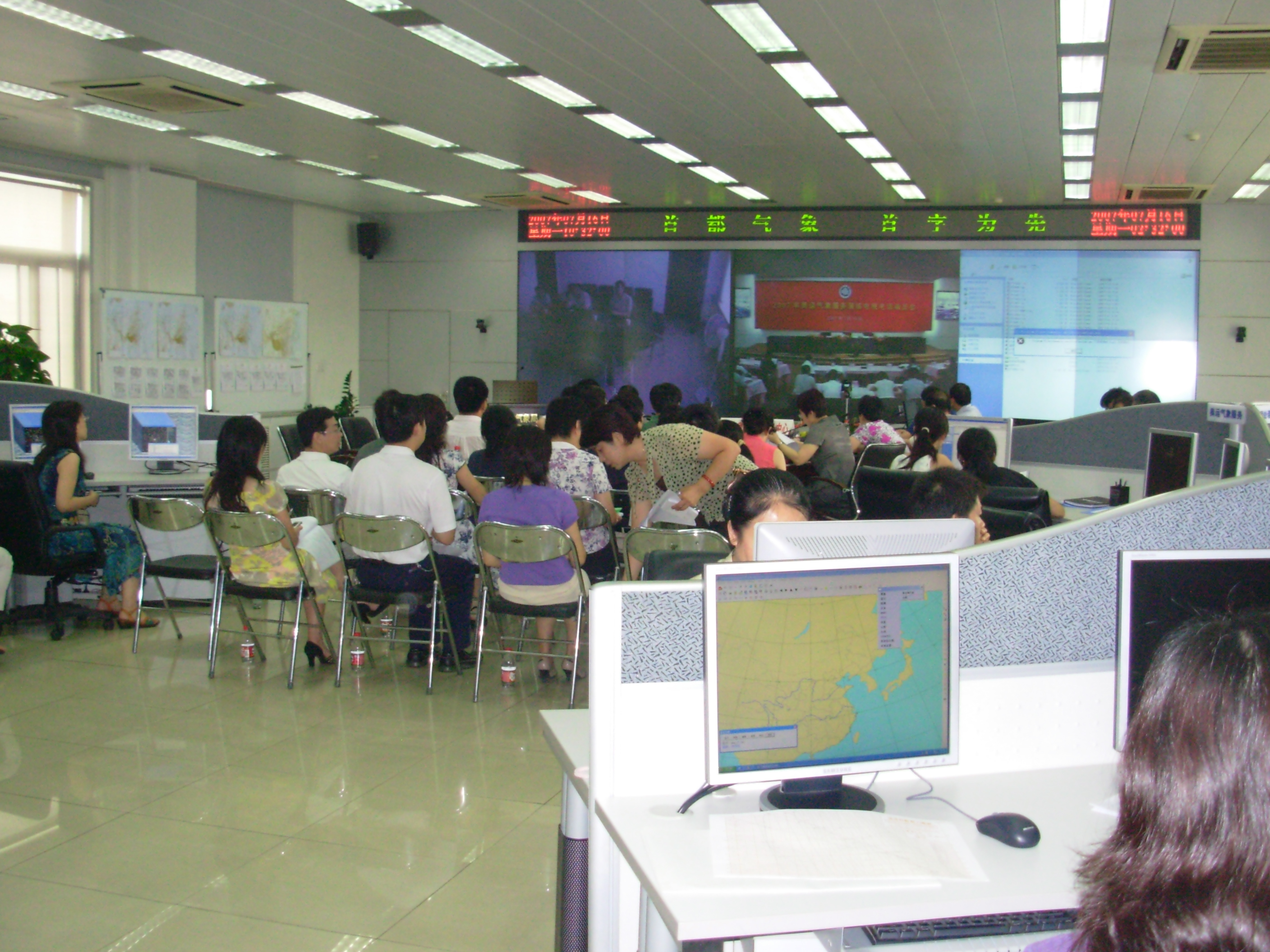 Nowcasting is underway at the Beijing Meteorology Bureau. Photo courtesy National Center for Atmospheric Research
To help deal with the horrendous pollution of the Chinese capital, new subway lines have just opened, factories have been shut down temporarily, and commuters are being forced to drive only every-other-day.
There are even some attempts to control the weather, with cloud seeding and other methods of weather modification. But while influencing the weather is still considered somewhat dicey in the scientific community, Chinese forecasters are keen on, at the very least, knowing what the weather conditions will be for every sporting event.
So the Beijing Meteorology Bureau has called in the cavalry, in the form of scientists from NCAR, the National Center for Atmospheric Research in Boulder, Colorado.
NCAR meteorologist Jim Wilson is working with Chinese counterparts to help them master the art and science of "nowcasting."
"All it is is zero to six hours," said Wilson. "We're not just talking about forecasting scattered showers, but forecasting that at 2 pm there will be a thunderstorm at such and such a location," he said.
And if the thunderstorm is forecast for the Beijing National Stadium with tens of thousands of spectators, an accurate forecast of severe thunderstorms with lots of lightning could be extremely important. While their work may not have the drama of an Olympic diver doing a reverse one and a half somersault with two and a half twists, their success could certainly play a part in how successful, or at least how comfortably some of the events play out.
Wilson has traveled to Beijing numerous times over the past few years, training forecasters on the specifics of the "nowcast." Radars, satellites, and other tools are used to try and improve short-term forecasts. Wilson is a radar meteorologist who has pioneered the "Auto-nowcaster," a technique that combines numerical models and observational forecasting.
"One of the biggest issues of a forecast is predicting, when will it stop? Can we keep going with this event until the rain stops?" said Wilson. Sometimes that becomes a safety issue, as in the case of a large stadium with thousands of spectators, or if the event involves water, such as sailing or kayaking events.
Wilson did similar work with an international team of weather forecasters in Sydney, Australia for the 2000 Olympics.
He's is headed back to Beijing July 30. He'll spend a week shaking down specifics with Chinese forecasters before the pressure hits for Opening Ceremonies August 8.
Nowcasting isn't just for exotic global events like the Olympics.
It was first developed for aviation, helping solve the deadly problem of forecasting wind shear.
"It was a natural extension to carry this on to other parts of society," said Wilson.
NCAR works with the National Weather Service to develop nowcasting techniques for them, helping meteorologists better pinpoint the precise times and locations of thunderstorms.
Marsha Walton– CNN Science and Technology Producer
Filed under: Weather