The old Nissan diesel engine in the Scout had, as of Friday morning,  taken us about 1,200 miles without incident. Unfortunately, the incident we were already wary of happened just as we were attempting to leave the ranch at Grand Canyon West: Our fuel system clogged up.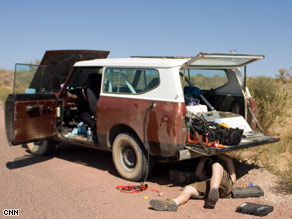 Our broken down Scout in Grand Canyon West, Arizona.
One of the issues with using biodiesel in high concentrations is its tendency to act as a powerful solvent on the various engine components it touches. This leads to premature breakdown of anything made of rubber, and on top of that, it cleans out your engine and fuel tank of any gunk that might have built up over its life as a diesel.
In our case, we seem to be suffering more from the fact that the previous person to install fuel lines on the Scout decided to use that stretchy surgical plastic tubing, which our biodiesel made short work of. It turned into goo from the inside out, and the goo went straight into our fuel filter.
We thought we were prepared for this. We had enough fuel line of decent quality to replace the surgical tubing. The four spare filters we have with us should have provided an easy way to fix the rest, but we soon found out that they were all the wrong size - much to our chagrin.
Thanks to the extremely helpful staff and maintenance crew (especially Dave), we were able to change the deteriorating fuel lines and do as thorough a cleaning of the fuel filter as we could. Things seemed to be working great. It was time for a big ranch lunch.
After lunch, we set out again to leave, only to make it a few hundred feet before running smack into the same problem. Dave from maintenance towed us to their shop, and we spent another hour or so cleaning the fuel filter and cracking injector lines and wishing and hoping. We left there, fingers crossed, and made it halfway down the road out before the great clog returned again, with a vengeance.
We then rather frantically researched ways to resolve this situation. Our first thought was to join AAA, and we did. As it turns out, they refuse to tow from where we are. A nice waste of time, effort and money that was. The only local wrecker service we could get in touch with demanded $800 in cash. So instead we got a ride with our new buddy Dave, who was going home by way of the nearest city.
Which brings us, eventually, to our current locale: a motel in Kingman, Arizona. We have a new mission now, which is to get the Scout running again ASAP. We desperately need to find a new fuel filter, and we'll probably have to rent a car to do it.
Though this turn of events is unfortunate, I suppose it's a good thing that it didn't happen in the middle of the desert. The road trip must continue!
- Brian
Posted by: Brian Hardy
Filed under: environment • Road trip