The Scout is out! After two days of tinkering, we managed to coax our 1978 International Harvester Scout into making the two-and-a-half hour drive from Grand Canyon West to Kingman, Arizona. Here in Kingman, we have better access to auto parts suppliers and mechanics.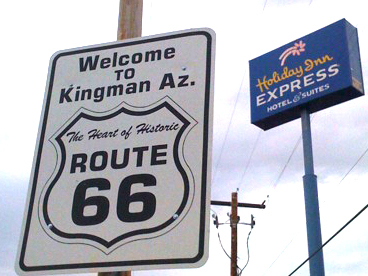 This is the latest development in a fuel-filter saga that started Friday - delaying our attempt to drive the Scout from California to Georgia using only biodiesel fuel.
Here's how we got the vehicle out of "no man's land" at Grand Canyon West: We temporarily bypassed the fuel tank and rigged a new fuel supply line to a fuel can in the back of the Scout.
But we burned through a ton of fuel during the limp to Kingman. And what's worse, before we can continue our biofuel road trip, we have to figure out how to repair the fuel filter clogging problem. We have to find someone to help us clean out the fuel tank - which should be an interesting chore on a Sunday.
Because of this delay our schedule will have to be shuffled. We'll keep you posted on what's going to happen as soon as we know for sure ourselves.
- Cody
Posted by: Cody McCloy
Filed under: environment • Road trip