We're mobile again and pausing in Winslow, Arizona, after fixing our fuel filter problems.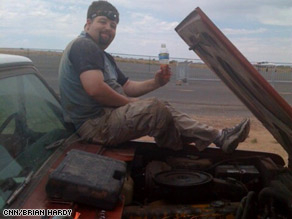 Cody takes a break from road-side repairs.
Here's how we spent Sunday in the fine Arizona community of Kingman working to get our 1978 International Harvester back on track to finish our California-Georgia road trip fueled by biodiesel:
After a late night getting the Scout freed from its confines on the road out of Grand Canyon West, we slept in a little and had a nice big breakfast at Denny's. We then set out on our daily errands and attempted to get the Scout back up to road-trip condition.
Our main task was to get the fuel tank pumped clear of all of the various substances and residues we'd put in it over the past 1,200 miles. We first tried calling various repair shops and truck stops, to no avail. Then we were directed to Great West Truck Center, a large semi truck service shop that was right there in town.
Thanks to the help of Steve and Debbie at Great West, we were able to get the tank pumped with a minimum of hassle. Apparently what was in there smelled a lot like acetone and had a very strange consistency - prime for clogging things!
With that taken care of, we headed across the way to the Flying J to fill up some good old harmless No. 2 diesel, and used their parking lot as a makeshift shop to switch out our tank. After a quick priming of the system, we were up and running comfortably. Success!
Then it was time to clean the two-and-a-half days of desert dust out of the Scout's interior. We also took the opportunity to change the air filter and the oil, which, from the look of its filter, was something we should have done already. Everything went fairly smoothly here, and the Scout seems much happier for it.
We then had some very delicious Mexican food at Alphonso's as a last stop before leaving Kingman and heading to Winslow.
Our original plans were to go to Taos, New Mexico, over the weekend, but due to our unexpected troubles we had to cancel those plans and push it straight to Roswell - voted on by CNN.com users among three other choices (ironically including Winslow). Our stop in Winslow is basically aimed at cutting our drive time into more manageable chunks.
We'll see you Monday at 9:40 a.m. on CNN.com Live, when we'll show you the odd way we rigged the fuel line to get us out of the Grand Canyon.
– Brian
Posted by: Brian Hardy
Filed under: environment • Road trip