You know those directions Web sites - and the travel times they give you about how long it takes to drive somewhere? They lie!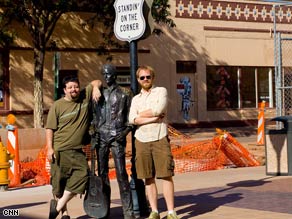 In Winslow, Arizona, Cody McCloy and co-pilot Brian Hardy visit a statue honoring the Eagles song "Take It Easy."
Or at least they do when - like us - you're driving a 30-year-old vehicle, with no air conditioning and it's 100+ degrees. In addition, that's if you drive without stopping. Who drives straight for 8 hours? Not me that's for sure - as we make our way from California to Georgia. I have to eat and other such things.
Also you have to fuel your car. And because we're attempting to fuel our 1978 International Harvester Scout on as much biodiesel as possible - these fill-up stops aren't always quick and easy.
Today for instance, we first hit the road around 8:30 a.m. - which meant we should have arrived in Roswell, New Mexico, around 6ish. Nuh uh - we got here at 9 p.m.
We had reserved a camping spot at Bottomless Lakes State Park (which sounded divine - power, a shelter, what more could a boy and his gadgets want?) Well that was a bust. The park locks its gates at 9. We thought we might make it anyway - but a GPS-led wrong turn later and that was all a ship in the mist glimpsed but never touched.
I must say Roswell is bigger than I'd imagined it, and kinda cool.
The strip leading downtown has many old department stores which are now leading new lives, and a fair bit of neon. Also some of the street lights have alien eye stickers stuck on them.
Yeah, I like this place.
So no camping - and there seems to be a run on hotels. So neither did I get to stay in the one with the awesome neon sign. Instead it's a big corpprate box place - by far the nicest place we've paid to stay this trip. Call me what you will for wanting a little character.
Okay - time to put down the blogging pen and take up the editing pen. I have a lot to do before going to bed (and crew call is at 5ish tomorrow) including finding some food, editing and uploading some video and pictures.
Till tomorrow
- Cody
Posted by: Cody McCloy
Filed under: environment • Road trip