Our cross-country road trip using biodiesel fuel motors on toward New Orleans, Louisiana.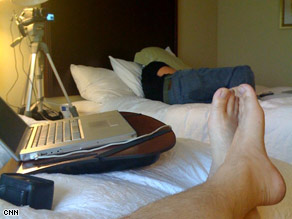 Brian Hardy and I rest after broadcasting Wednesday on CNN.com Live.
After we over-nighted in Fort Worth, Texas, we'll see if it really takes eight-and-a-half hours to drive to the Big Easy - as those "directions Web sites" suggest.
We're hoping to visit New Orleans' Lower Ninth Ward on Thursday to see how it's doing nearly three years after residents were hit hard by Hurricane Katrina. Because we lost so much time due to mechanical troubles in Arizona, it looks like we'll have to cancel our planned visit to Natchez, Mississippi.
I have to tell you that Tuesday was one of the longest drives of our trip so far – we drove about 500 miles in one day. It also was one of the hottest. With no air conditioning in our 1978 Scout, I felt like a piece of fish in an oven. I was just roasting. My skin was dry and cracking and basically I pleaded with my co-pilot Brian Hardy to stop at a convenience store so we could stand in the a/c for about ten minutes.
- Cody
Posted by: Cody McCloy
Filed under: environment • Road trip