It's Day Ten of our California-to-Georgia road trip in our biofueled International Harvester Scout.
We've paused in Fort Worth, Texas, providing me with an opportunity to review a couple of loaner GPS navigation units that we've been testing out.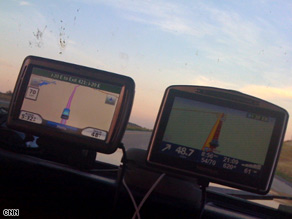 The Garmin, left, and the Tom Tom GPS units have pleasantries and annoyances.
We have a Garmin nüvi 880 and a TomTom Go 730. While these two aren't necessarily in the same price range, they both have their strong and weak points.
Let's take a look at a few of them.
Certainly the more expensive of the pair, the Garmin nüvi 880 comes equipped with a feature set to match its price. One of the nicer features, in theory, is the draggable map view that can be easily accessed by tapping on the map while in driving mode.
It allows you to view your current position from a "top down" perspective, and you can drag the map around to locate a new or alternate destination by tapping.
Unfortunately, this view quickly proved useless for most purposes, largely because of a lack of detail in the map and its difficulty in appropriately labeling what was shown (it refused to label Las Vegas at any zoom level, labeling all the suburbs instead).
We often found ourselves using the iPhone's Google Maps application to cross-reference; clearly not something you expect to need to do with a high-end GPS at your disposal.
Otherwise, the Garmin interface is fairly well executed, if a bit slow to respond. It's easy to set your destination and add via points, and there are menu options allowing you to re-order the points either manually or optimally, based on the route.
Automatic day/night color mode selection is handy, and the high resolution display can show a good bit of information alongside the map, although we wished we could add more.
Another driving mode screen shows various data about your trip, such as distance traveled and average speeds (moving and overall).
It also shows your current speed in a large circle, which was handy for us at night because the Scout's dash lights are broken. This feature would also be nice for use while bicycling, if you're brave enough to mount such a nice piece of gear on your bike.
Speaking of mounts, the mounting bracket and suction cup for this device are very well designed, and it hasn't lost its hold on the windshield yet, even through some very bumpy terrain.
We did experience a few misdirections and bad routing choices, one of which caused us to miss the check-in window for our campsite in Roswell, New Mexico, but overall the Garmin has seen more use on the trip.
The TomTom Go 730probably has the more user-friendly interface, but its screen is lower resolution than the Garmin, and the maps don't look quite as nice in navigation mode. It does a better job of displaying point of interest (POI) information on the map as you move along, however, which can be handy. Also we liked the ability to see the entire route displayed on a map, but there didn't seem to be a way to zoom in or out in that view.
Our speed and the current speed limit were always displayed on the main screen along with the map, and this information was also customizable, allowing you to choose what info to display. We never noticed any sluggishness with the interface from tap to tap, and the method of searching for your destination by typing was more intuitive than the Garmin's, requiring fewer taps.
The mounting hardware for the TomTom leaves something to be desired, as the suction cup has fallen off a few times and the power cable plugs into the bottom of the unit, which can interfere with the dashboard if you don't place it high enough. Occasionally we had difficulty reading the next turn information on the display, as it is somewhat small and unobtrusive. The speaker, however, was loud enough to overcome this problem most of the time, even with our windows down.
Ultimately, both of the units have pleasantries and annoyances.
Certainly our usage hasn't covered all of the features of either unit, especially those related to managing and updating them with your computer. Hopefully, however, our experiences can help guide you to a better understanding of what you might be getting into.
See you on the road!
- Brian
Posted by: Brian Hardy
Filed under: environment • Road trip