Note to "S Callahan" who asked in our comments what kind of money are we spending on biodiesel in comparison to typical gasoline: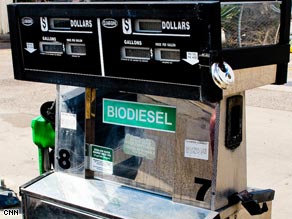 We filled up in Albuquerque, New Mexico, with B20.
Since we've mostly been buying blends, the prices have been quite close to what you might pay for gasoline. "Bio" might've even been a touch higher in some places we've stopped.
Remember, demand sets price, and there's a huge demand for all fuels right now. The only way biodiesel would be cheaper was if no one wanted it.
Hope that answers your question!
–Cody
Posted by: Cody McCloy
Filed under: environment • Road trip