After two long, soul-wrenching weeks we're finally about to head home. This trip has been amazing.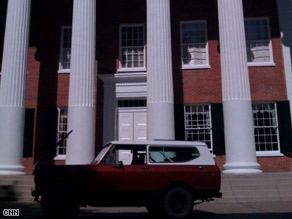 Our Scout sits Friday in front of The Lyceum at Ole Miss in Oxford, Mississippi.
I've met people I hope to become long-term friends with. I also reconnected with some old friends, including Jenna from the National Biodiesel Board, who used to be my producer back in my KOMU-TV days at the University of Missouri.
All in all I would mark the trip a success. What do you think?
Now we're arranging to get five gallons of bio before making the trip back to Atlanta. There, I plan to take a two-day nap after we wrap it all up during a CNN.com Live broadcast on Monday. We'll take a look at what lessons we learned from our trip and some of the lighthearted moments.
- Cody
Posted by: Cody McCloy
Filed under: environment • Road trip