Well... here we are. We made it back to Atlanta in (mostly) one piece after a two-week journey I'll never forget. This morning my colleague Brian Hardy and I did a little recap video interview with CNN.com Live which you can see here.  We also have an iPhone review (it never left my side) that we'll put up a little later.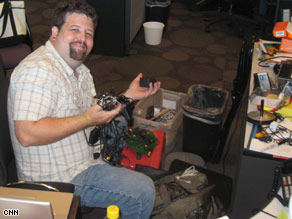 I have a lot of cables to untangle.
Four-thousand miles later - and many gallons of bio and regular diesel - I  would call this road trip a success.  It wasn't perfect - but we talked to a lot of people, saw a lot of things and learned a good deal about biodiesel fuel and long-distance travel.
Now I have about two tons of gear to sort through and put back in its rightful place (versus the various bags, bins and cubbies I stuffed it into).
Oh yeah - and the sleeping - there will be lots of sleeping.
Thanks for followin' us...
- Cody McCloy, signing off
Posted by: Cody McCloy
Filed under: environment • Road trip