In a set-back to NASA's efforts to fly the successor to the space shuttle sooner rather than later, the space agency announced a launch slip Monday for Orion, the next generation manned spacecraft currently under development.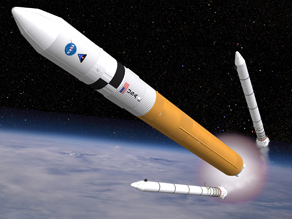 Ares V rocket launches as part of the Constellation Program. Source: NASA
"September 2014 is when we are saying we will launch the first crew on the Orion," said program manager Jeff Hanley during a conference call to brief reporters on the delay.
Cost concerns are at the root of the slip – as well as giving themselves wiggle room to deal with the unforeseen technical problems that will inevitably crop up.
"It's the unknown unknowns that we have to hedge against," said Hanley. "Having some number of months of schedule flexibility to meet our commitment, in addition to having some number of months of cost - dollars - flexibility, is key to keeping ourselves in a healthy posture."
NASA officials plan to wrap up assembly of the International Space Station and retire the space shuttle fleet in 2010, freeing up money to build and fly the new spacecraft. Sometimes called "Apollo on steroids," Orion is designed to ferry astronauts to and from the ISS, and eventually to the moon. Unlike the space shuttle, which lands like an airplane, Orion is a capsule that will parachute to a landing at Edwards Air Force Base in California.
The new September 2014 date is actually a self-imposed, internal deadline for NASA - the true commitment date for the first flight as set by Congress is March 2015. NASA managers were hoping to fly the new vehicle much sooner than that to keep the gap between the last shuttle flight and the first Orion flight to a minimum. Most recently, September 2013 was NASA's goal. But program managers now admit that target date is unachievable.
"As we looked at the plan we had for Sept. 2013 against the available dollars it became clear to us that we needed to adjust our schedules," said Hanley.
–Kate Tobin, Sr. Producer, CNN Science & Technology
Filed under: Constellation Program • NASA • Orion • Space