You've heard about it - that huge floating mass of garbage in the Pacific Ocean.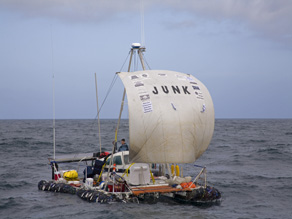 This odd looking vessel is raising awareness about the toxic plastic soup in the Pacific Ocean. Photo courtesy Algalita Marine Research Foundation
Depending on whose sister's brother-in-law you believe, this trash heap is as big as (pick one):
Massachusetts
The continental United States
Pluto
The correct answer: no one is exactly sure.
While the story may sound as far-fetched as reports of hundreds of alligators wandering the New York City sewer system, unfortunately, the great Pacific Garbage Heap tale is true.
What's difficult for most of us land-based creatures to understand is that this is not one solid mass of junk that can be photographed by satellites or tracked with remote cameras. No scientist can say, with precision, "It is 450 square miles and weighs a hundred million tons." It's more like an enormous, amorphous, nasty soup that stretches for hundreds of miles.
"Discarded fishing nets are the noodles; bottles, buoys and all kinds of larger items are the vegetables and meat, and basically the entire Pacific is this broth of plastic soup," said Anna Cummins, education adviser at the Algalita Marine Research Foundation in Long Beach, California. The non-profit foundation has studied plastic marine debris in the North Pacific for the past decade.
Cummins is one of the coordinators of an Algalita project to educate consumers about how trash, especially plastic, is fouling the marine ecosystem.
Her colleagues Marcus Eriksen and Joel Paschal are in the midst of a voyage from California to Hawaii on a boat made of 15,000 plastic bottles and parts of a Cessna 310. Their mission is to raise awareness about the plastic that's killing marine life up and down the food chain. Both are experienced sailors, though in far more traditional sailing craft.
To quote the JunkRaft blog:
"The North Pacific Gyre is a clockwise rotating mass of water roughly twice the size of the U.S. where currents and winds slow down. It's like a toilet bowl that never flushes."
You can follow their journey, which began June 1 from the Long Beach Aquarium, at http://junkraft.blogspot.com.
Eriksen is a science educator, weather expert, and Marine veteran of the 1991 Gulf War.
Paschal is a filmmaker who previously worked for the National Oceanic and Atmospheric Administration studying marine debris. He is chronicling the JUNK voyage for a documentary.
"We want to gently educate about the problem, and get consumers to move toward re-usables, " said Cummins.
The plastic junk comes from all over the world, primarily Asia, Europe, and the United States.
The detritus has been found in fish as small as an inch long. And when dead seabirds such as the albatross were necropsied, scientists sometimes found more than half their stomach contents was human trash-from bottle caps to plastic pen caps to fishing bobbers. Plastic that never degrades also kills turtles and whales.
"The best solution now is to try to prevent the problem from getting any worse," said Cummins. "It's hard to conceptualize how to fix it. Logistically, it would be like sifting the Sahara Desert."
The sailors expect to arrive in Hawaii sometime late this month.
So, any ideas from the brains of our astute blog readers? How would you fix this? Outlaw single use plastic items? Push for plastics that biodegrade? Put a litter cop on every ocean-going vessel? Teach your kids to respect the planet?
- Marsha Walton, CNN Science and Technology Producer
Filed under: environment • Oceans