There's been a tremendous response from CNN Readers and Viewers on our reporting on Mr. Bigfoot.  As you may discern from the subtle hints in the title of this blog as well as other reporting on our website and on CNN TV, we're not buying it.  But we are reporting it.  And from the top of the organization to the bottom, we're comfortable with that, because that's what we're supposed to do.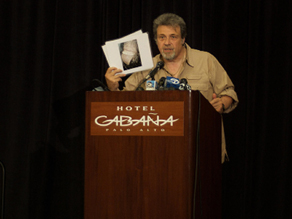 Bigfoot "hunter" Tom Biscardi displays photographic "evidence" of the mythical creature's existence. IAN SHERR/AFP/GETTY IMAGES
There have been many comments on this blog about how CNN should be "ashamed" for acknowledging this story.  There have also been many others critical from the other side.  Some say we should wait till the scientific verdict is in; others have already stamped Bigfoot's passport and declared all of this to be real.  Others have labelled CNN as "lazy" for not going out and finding Bigfoot for ourselves.    A special thanks goes out to the several people who took the time to write and complain that CNN was wasting their time.
I've had a great time reading through the (mostly) very smart comments from all sides on this.  Thanks.  Even to those of you who've declared me an "idiot" for my extreme skepticism about the tribe of Bigfeet that live one menacing Georgia Congressional District away from me, my children, and my pets. Here are a couple of facts about this story that I hope will clarify what CNN's role in this story is:
1) CNN is responsible to make its own decisions on what news is, but we're also beholden to report on what our audience is interested in.   In the six-month life of this blog, Bigfoot has gotten more page-views and comments than all but two of the 250-plus stories we've reported.   It would be irresponsible to impose a blackout on reporting this, given the demonstrably strong interest in the story.  It would be just as irresponsible, given the track record on reports of the finding of previously undiscovered mythic beasts in the wilderness, to report in a way that makes this seem like it's a reality. 
I have no problem sharing with you, on this blog, my personal impressions:  The Bigfoot "discovery" is a crock.  But we have an obligation to report the facts as they come out, for the benefit of a public that clearly cares about this, for whatever reasons. 
2) For those who think we've been a bit tough on the seven-foot-seven, 500-pound fella and his human handlers, it's important to acknowledge that a heavily-publicized announcement just took place with no firm evidence whatsover presented.  The impresario who ran the show has a track record of promoting at least one past proven hoax, and the two discoverers had, to put it very charitably, a very tough time accounting for themselves.  All this on top of a century-long history of phony-but-lucrative sightings of Fierce Creatures.  Many commenters have indignantly reported that Bigfeet have been spotted in nearly every one of the United States.  None have mentioned that anyone, anywhere, has produced a single Bigfoot bone, or shred of flesh.  Elvis sightings have as much forensic evidence.  That's where the evidence starts.  For all practical purposes, including the legacy of proven hoaxes, the evidence, or lack thereof, pretty much doesn't end.
CNN has reported on this story in a way that gives strong weight to the likelihood that Bigfoot is as real as mermaids and leprechauns because that's what the preponderance of evidence says.   Those of you who agree or disagree are welcome to voice your opinions here.  Thanks.
Peter Dykstra  Executive Producer   CNN Science Tech & Weather
Filed under: Animals • Hoaxes • myths