This kicks off a regular series of video-blog posts about new developments in the world of video games. The posts accompany, "Get Your Game On," a weekly video-gaming segment on CNN.com.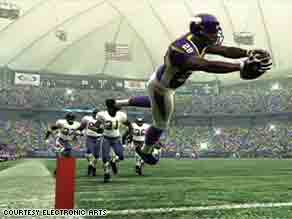 The hugely popular game, "Madden 09."
This week, CNNMoney.com's Poppy Harlow explores how the booming video-game industry seems unaffected by the sputtering U.S. economy (watch video here). Games are still selling briskly at prices ranging from $50 to $150 - and that's not even including the consoles.
And thanks to such monster hits as "Grand Theft Auto IV," the stocks of big video-game companies are mostly performing well on the NASDAQ. Overall, gaming stocks have bounced this year, despite the overall decline for the NASDAQ and other major U.S. averages. Maybe something for investors out there to consider?
- CNN.com
Filed under: Games