Heavyweights in the scientific community are not waiting until the November election.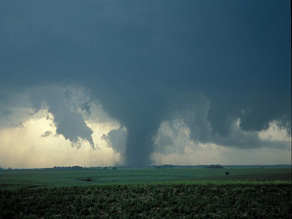 Tornadoes are forming at a record setting pace this year. This twister touched down near Hebron, Nebraska in 2004. Photo by Bob Henson, UCAR
They are warning the next residents of the White House and Congress that the U.S. needs to just about double its budget on weather and climate change research, research they say impacts everything from health and safety to transportation and national security.
Scientists cannot fully understand or deal with the impacts of climate change without the proper political leadership, and without funding for scientific observation and computing. That was the message from the University Corporation for Atmospheric Research, the American Meteorological Society, and the Weather Coalition in a teleconference with reporters today.
In a document aimed at the next crop of political leaders, the scientists said "Science is key to understanding these impacts, but weather and climate research and operations budgets have been flat or declining for years due to the budget wars in Washington."
John Snow, co-chair of the Weather Coalition and dean of the College of Atmospheric and Geographic Sciences at the University of Oklahoma, said there may have been a lot of good intentions in Washington in recent years, "But the reality is they've been unable to deliver."
"The science budget has barely been keeping up with inflation, and in some cases has suffered actual cuts," said Snow.
The National Science Foundation got a 2% increase, not keeping up with inflation, and the weather and climate research got 0%, effectively a strong cut," he said.
The scientists are making five recommendations they say will improve the country's resilience to severe weather and climate change:
Observations: Fully fund the earth observing system from satellite and ground-based instruments.
Computing: Greatly increase computer power available for weather and climate research and predictions.
Research and Modeling: Support a research program in earth sciences to advance understanding of weather and climate and their impact on society.
Societal Relevance: Support education, training and communication efforts for the maximum benefit of society.
Leadership and Management: Implement effective leadership to ensure that these investments are done in the best interest of the nation.
The price tag? The group says lawmakers will need to add about $9 billion to the current $10 billion that is budgeted over the next five years.
Whether it is hurricanes, tornadoes, fires, floods, snow, or drought, 75% of natural disasters around the world are triggered by weather and climate. That translates to billions of dollars in weather related losses every year in the United States.
"What we have put forward in the transition document is what we think is needed to prepare the nation for climate change, to be able to continue to improve our knowledge," said Jack Fellows, vice president of the University Corporation for Atmospheric Research.
"Frankly, we think this is one of the most pressing problems facing humankind, but it just happens to be on a longer scale than a lot of problems our country faces," said Fellows.
The other five organizations that wrote the document are the American Geophysical Union, the Consortium of Universities for the Advancement of Hydrologic Science, the National Association of State Universities and Land-Grant Colleges, the Consortium for Ocean Leadership, and the Alliance for Earth Observations.

Marsha Walton, CNN Science and Technology Producer
Filed under: climate change • environment • Weather