Working in a modified shipping cargo container may not sound like a great assignment for a scientist. But several amphibian experts in Atlanta are welcoming the chance to study a dozen frog species in a new facility at the Atlanta Botanical Garden.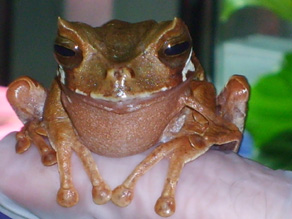 Ready for my closeup: This male marsupial frog is part of the captive breeding program at Atlanta Botanical Garden (CNN Photo)
The 40' by 8' container, or "amphibian pod" is biosecure, so that no pathogens (any microorganism that can cause disease) go in or out of the facility. The pod is also "green." Water coming out of it is treated and re-used at the Garden.
"The temperature is similar to Panama where all the frogs came from, 80 degrees during the day and 62 at night," said Ron Gagliardo, amphibian conservation coordinator at the Garden.
Why frogs at a botanical garden?
In the early '90s, Gagliardo set up a poison dart frog exhibit at the Garden.
"The visitors went crazy. It was a great way to hook visitors to conservation issues," said Gagliardo.
And as conservation issues go, no animals could use attention more than amphibians.
Amphibians– you remember from elementary school, they live on land, breed in water– include frogs, toads, newts, salamanders, and caecilians. (Caecilians are burrowing, wormlike creatures.) And about a third of the 6,000 species are declining or endangered.The World Conservation Union's Global Amphibian Assessment estimates since 1980 at least 122 species have already become extinct.
The pod concept began at a research center in Melbourne, Australia. The scientists in Atlanta are working to streamline and standardize the tanks, lighting and water systems so that the pods can cheaply be operated in developing countries in Central and South America where they are needed for captive breeding programs.
But frogs and salamanders don't have the same prestige as pandas and polar bears... the "charismatic megafauna" that help conservation groups raise money. They also tend to be studied less.
"We have less of a knowledge base about amphibians," said Dante Fenolio, amphibian conservation scientist at the Garden.
Right now one of the biggest threats to amphibians is a deadly fungal disease known as Chytridiomycosis, or chytrid (pronounced kit-rid). Habitat loss, pollution, invasive species and climate change are other dangers they face.
"This is a catastrophic problem," said Fenolio. "We know very little about environmental toxicology," he said.
Chytrid is now found on every continent except Antarctica, (where there are no amphibians).
The fungus kills by interfering with an animal's ability to move water and air through its skin. As the fungus spreads through Central America, several rare frog species (the marsupial frog, lemur leaf frog, and glass frog) are now in a breeding program at the Garden, a joint project with Zoo Atlanta.
Jenny Cruse-Sanders, a plant evolutionary biologist who is director of research and conservation at the Garden, said having frogs on display is a great way to educate the public.
"People are always asking, 'What can I do?'" said Cruse-Sanders. "We want to keep people engaged and informed, to keep up a sense of hope and action," she said.
A coalition of science and conservation groups has declared 2008 "The Year of the Frog." You can find out more at Amphibian Ark, whose mantra is, "Keeping threatened amphibian species afloat."
Marsha Walton, CNN Science and Technology Producer
Filed under: Animals • environment