U.S. government scientists are one step closer to publishing a rule aimed at protecting the endangered North Atlantic Right Whale from ship strikes.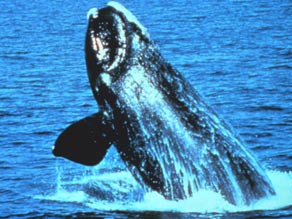 A North Atlantic right whale spotted at the Stellwagen Bank National Marine Sanctuary off Scituate, MA. Source: NOAA
The National Oceanic and Atmospheric Administration (NOAA) filed its final environmental impact statement Monday, seeking public comment on its proposal to slow down commercial ships along parts of the East Coast where slow-moving right whales are found.
This is one of the most endangered of mammal species; only about 300 of the animals remain.
NOAA is proposing a 10-knot speed limit in right whale feeding grounds in and around Cape Cod, Massachusetts, and inside the "calving grounds" off Jacksonville, Florida.
The slowdown also applies to a 20-mile "bubble" near mid-Atlantic ports where and when the whales are migrating. The original proposal by NOAA scientists more than a year ago called for a 30-mile caution area around ports.
The shipping industry has been adamantly opposed to this rule. The World Shipping Council, representing more than two-dozen companies, told the government that such a speed limit would botch tightly controlled container ship schedules, make it more difficult for big ships to maneuver, and cost money.
These concerns sparked an internal debate within the Bush administration and delayed the rule. A final rule should have come out of the Office of Management and Budget over a year ago.
Right now, experts say commercial ships kill about two North Atlantic right whales every year. Even that number could mean the end of the species, according to both NOAA scientists and conservation groups.
- Alex Walker, CNN Science & Technology
Filed under: Animals • environment • science • Scientists