Attention all seafood lovers. Put down your forks, knives, and crab mallets for a moment and listen up.
According to the National Marine Fisheries Service, Americans consume close to 5 billion pounds of seafood annually. But that's only a third of the marine life the U.N.'s Food and Agriculture Organization estimates fishermen discard globally each year as bycatch, or species unintentionally caught in fishing gear. What's more, the FAO classifies 75% of the world's fisheries as either fully exploited or overexploited.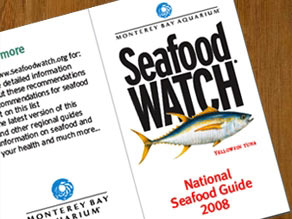 Scientists today may understand the environmental consequences of overfishing and harmful fishing practices, but for the Average Joe it's not so cut and dry. It's difficult for regular consumers to know whether their seafood dinner is simply tasty protein or a contributing factor to a fishery's collapse.
The Monterey Bay Aquarium Foundation is trying to change that with their newly updated Seafood Watch Pocket Guides.
About the size of a credit card, the Seafood Watch Pocket Guide fits easily into any wallet. But it's the information inside the guide that's really impressive. Based on fisheries' management, sustainability, and environmental impacts, the Pocket Guide ranks common seafood products into three categories: Best Choice, Good Alternative, and Avoid.
It also gives advice on seafood to avoid for health reasons, such as the increased mercury and other contaminant levels in species with high fat content.
The Pocket Guide is updated twice a year to ensure seafood recommendations correspond to current events in the world of fishing. For example, the new version removed California and Oregon wild-caught salmon from the guide altogether because the fisheries were recently closed to fishing. (Watch this for more information).
Seafood Watch hopes the guide will help consumers make smart choices when purchasing seafood at restaurants, grocery stores, and even sushi bars.
"Consumer purchasing power can make a difference by supporting those fisheries and fish farms that are better for the environment, while at the same time relieving pressure on others that are not doing as well," says Sheila Bowman, the program's Outreach Manager, "The choices we make as consumers drive the seafood market place."
Seafood Watch distributes its national and regional Pocket Guides through partner organizations across the United States and Canada. You can download your own guide at www.seafoodwatch.org or get it on your cell phone by pointing its internet browser to mobile.seafoodwatch.org.
Julia Griffin, CNN Science & Technology
Filed under: environment • Oceans