After spending nearly a year exploring the inside of the massive Victoria Crater, the Mars rover Opportunity is on to the next task.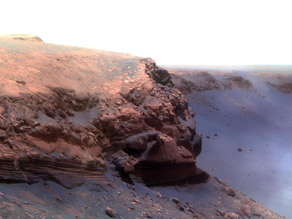 Cape Verde outcropping inside the Victoria Crater. Source: NASA
But back on September 11, 2007, when Opportunity began a long drive down a slippery slope into Victoria Crater, I thought it might starting what would turn out to be a one-way trip. Mission operators back here on Earth were so careful with the drive down, stopping after short distances and backing up to assess traction on the path. And the crater was half a mile wide and over 200 feet deep, with what looked to me like a soft floor – complete with sand dunes!
I should have known the science team wouldn't take any foolish chances...
Here's what they did: they drove part way down the slope and identified a 20 foot tall cliff on the crater rim called "Cape Verde." They backed the rover off several yards and took their time gathering high resolution images of the layered rock face. Analysis suggests the rocks were deposited by wind and altered over time by groundwater.
And with that, Opportunity headed for the exit. Turns out those treacherous-looking sand dunes at the bottom of the crater are of little scientific interest, and, in the words of principal investigator Steve Squyres, probably a "permanent rover trap."
Next up: the rover will study loose, fist-sized rocks called "cobbles" that are littering the plains around the craters that have been Opportunity's main focus up to now. The cobbles were likely formed when asteroids or comets hit Mars to form those craters, throwing up rocks and debris.
The rover is showing some signs of age. A "shoulder joint" in its robotic arm has a degraded motor, so the engineers have stopped stowing the arm, even when the rover is driving. By keeping it deployed all the time, they hope to keep it at least partially functional even if that motor eventually fails completely. And Opportunity's left front wheel is showing signs of distress. It could fail in a manner similar to Spirit's right front wheel, which locked up back in 2006.
What's up with Spirit anyway? Over on the other side of Mars, that rover has been parked for the winter in a relatively sunny spot called "Home Plate" in the Columbia Hills. Even with the broken wheel, Spirit can still move around as long as the terrain is not too rugged. When Spring arrives in a few months, mission scientists plan to explore some bright, silica-rich soil nearby that could have been formed by hot water.
–Kate Tobin, Senior Producer, CNN Science & Technology
Filed under: Mars • NASA • Space