A rescue group that saved 1200 animals after Hurricane Katrina is back at work in Louisiana.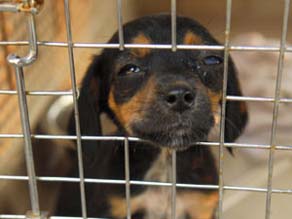 This puppy now has a safe place to ride out the storm north of St. Bernard parish. Photo courtesy Pasado's Safe Haven
Overnight they moved 67 animals to safety from the St. Bernard parish [county] shelter to a donated farm near Folsom, Louisiana.
Volunteers from Pasado's Safe Haven, based in Monroe, Washington, took 45 dogs and 22 cats to the 600 acre farm. Among the canines rescued were 8 puppies dumped in the shelter parking lot.
The St. Bernard Shelter has just two employees, and does not have the kind of funding it would take for such a major undertaking as relocating all of its animals. The visiting rescue crew arrived at the farm about 9pm Saturday night, then walked the dogs and cleaned their cages after the journey from the shelter. Some of the volunteers spent the night on air mattresses in the barn with the animals.
But Pasado founder Susan Michaels said the real work will start after Gustav hits.
"Our biggest concern is that a lot of animals will be left behind," said Michaels.
During hurricanes Katrina and Rita in 2005, some residents perished or were stranded when they refused to leave their homes and go to shelters because they could not take their pets. The state of Louisiana made some changes to prevent that kind of tragedy again.
Their major focus was on citizens with special needs. Those with small animals, 15 pounds or less, could bring their animals with them on evacuation buses. Larger animals were crated and transported to two special shelters where pet owners would be near their pets. Those shelters are in Shreveport and Alexandria, Louisiana.
And while there are some other pet/human shelters, state officials have been urging the general population to take care of their pets with the same care as they would any other family member.
"From the commissioner's office to the state veterinarian, we have all been preaching personal responsibility. Planning for an emergency is part of being a responsible pet owner," said Sam Irwin, press secretary for the Louisiana Department of Agriculture and Forestry.
The non profit rescue group Pasado's Safe Haven, founded in 1994, has helped pass four anti-cruelty laws. They are looking for volunteers, and provide a no-nonsense list of criteria for those who think they might want to travel to Louisiana AFTER Gustav hits. Among the requirements:
–You will need to be able-bodied
–Be able to lift a minimum of 50 lbs.
–Be willing to muck stalls, clean kennels, walk dogs.
–Have upbeat attitude. No WHINERS.
More information is available at the Pasado web site.

Marsha Walton CNN Science and Technology Producer in New Orleans
Filed under: Animals • hurricanes • Severe weather