Here's the next installment of our "Get Your Game On" series, in which CNN.com speaks to experts about what's hot in video gaming. This week, Scott Jones from Crispygamer.com joined us to talk about finding cheap games.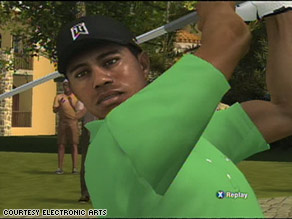 The economy may be bad, but that doesn't mean you can't get your game on.
Gaming can be an extremely expensive hobby. The latest consoles, whether it's Nintendo's Wii, the Xbox 360, or PlayStation 3, cost $250 to $500. Add in an extra controller or two, a few peripherals, and the price climbs exponentially higher. On top of that, new games cost anywhere from $50 to $60 a pop.
You don't have to cut video games simply because the economy is bad. There are many ways to game on the cheap. Indeed, gaming can be an extremely expensive hobby, but the dirty secret of the industry is that it doesn't have to be. Yes, there are ways to be a gamer and not completely empty out your wallet or go broke.
Watch Crispygamer.com's Scott Jones talk to CNN.com LIVE about ways to play big money games without spending a lot of cash
Tip 1: Go retro.
While it's great to have the latest shiny, new next-generation consoles and games, it makes better fiscal sense to buy last-generation consoles. For example, buy a PlayStation 2. For $130 you get the sleek slim line version. You instantly have access to, literally, hundreds of great games.
Beyond that, because the install-base for the PS2 is so great, many developers are still making games for the PS2. You want to play "The Force Unleashed?" "LEGO Batman?" "Rock Band 2?" "SingStar?" PS2 versions are available.
Of course, the way to save the most money is by tossing the used games bin at your local game store.
Tip 2: Buy used.
The new Tiger Woods game - "Tiger Woods PGA Tour 09" - is in stores this week. But don't buy the new one; instead, toss the used-games bin and dig out the 2008 version. As soon as the new game ships, the old game typically gets marked down 50, 60, or sometimes even 70 percent.
And the dirty little secret that companies like EA don't want you to know is that the new version is usually nearly identical to the previous year's version. Yes, the new Tiger is good, make no mistake; but last year's Tiger? That was pretty good too.
Other great games that you can pick up on the cheap are "God of War "and its terrific sequel; "Shadow of the Colossus," "Kingdom Hearts" 1 and 2, "LEGO Star Wars," "Resident Evil 4," "Okami," "Bully," "Katamari Damacy" –all of these games can be found new for less than $20. And if you're willing to buy used, you can save even more money.
Tip 3: Be smart when buying used games.
Four things to keep in mind when buying used games:
1. Be willing to do a little hard work. This sounds ridiculous, but scour the lower shelves for the best deals. Gamers are lazy and often don't look there.
2. Also: Keep an eye out for multiple versions of the same game in the used section; I've seen the same game at three or four different price points in the same store.
3. Once you've settled on the game of your choice, ask to see the disc before closing the deal. Turn the disc over, let the light reflect off of it, and look for any scratches, or warp marks of any kind. If you see anything that looks off, ask to see another copy of the game.
4. One final note: If the cashier offers you some kind of insurance plan for the disc–it'll sound something like this: "For an extra $5, we'll replace the disc at any point if it should break" - always, always, always say no. Discs are generally very durable. If it works when you get it home, it'll work pretty much into infinity.
Posted by: CNN.com
Filed under: Gaming