September marks the time of year when polar ice cover is at its lowest. After last year's record low, Arctic researchers say we're in for another bad year – and what is perhaps an irreversible trend.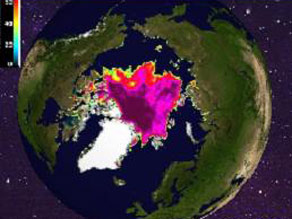 Polar ice cover as of yesterday. Source: Univ. of Illinois Polar Research Group
On Tuesday, scientists reported another Manhattan-Island-sized chunk broke off an Ice Shelf on Ellesmere Island in the Canadian Arctic.
a University of Illinois site allows you to bring the out-of-sight/out-of-mind Arctic to your desktop. If you want to track the day-by-day status of the Arctic ice cap, and compare it to past years, go here. The images, from the Illinois Polar Research Group, track Arctic ice coverage day by day back to 1979. See for yourself, and let us know what you think.
Also - more tomorrow on our parade of hurricanes across the Atlantic: Hanna looks to have uncertain potential for East Coast damage; Josephine hopefully will remain a mid-Atlantic storm and not reach land; but Ike could be a big one for the Gulf of Mexico.
Peter Dykstra Executive Producer CNN Science, Tech & Weather
Filed under: climate change • environment • hurricanes • meteorology • Oceans • Severe weather • Weather