Check out this cool picture from the Phoenix Mars Lander of sunrise in the Martian Arctic.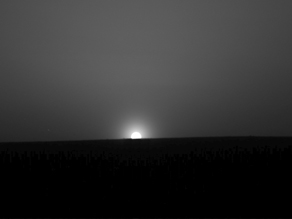 Sunrise on Mars, August 25, 2008. Source: NASA/JPL-Caltech/University of Arizona/Texas A&M University
Scientists picked a landing location on the Arctic plains because data from orbiting Odyssey spacecraft indicated lots of water ice in the area, mostly in the form of permafrost.  The researchers figured that would be a good place to look for organic chemicals in the dirt and ice. Up until now, Phoenix, which landed May 25,  has been going about its business in the "land of the midnight sun" located deep inside the Martian Arctic Circle.
But now there is a hint of autumn in the air.  On August 21, the 86th day after Phoenix landed, the sun set for the first time this season - rising again about half an hour later.  Now the days will get shorter and the nights longer until the sun finally sets for the season later this fall.
NASA has extended the Phoenix Lander's mission through September, and will almost certainly do so again.  Eventually, the cold and dark of winter will set in, ice sheets will advance, and Phoenix will die a frigid death - probably some time in November.
–Kate Tobin, Sr. Producer, CNN Science & Technology
Filed under: Mars • NASA • Space