This week, our "Get Your Game On" video-gaming segment is about Blizzard Entertainment's "World of Warcraft," the wildly popular Massively Multiplayer Online (MMO) game that allows millions of players to interact with each other in an online fantasy world.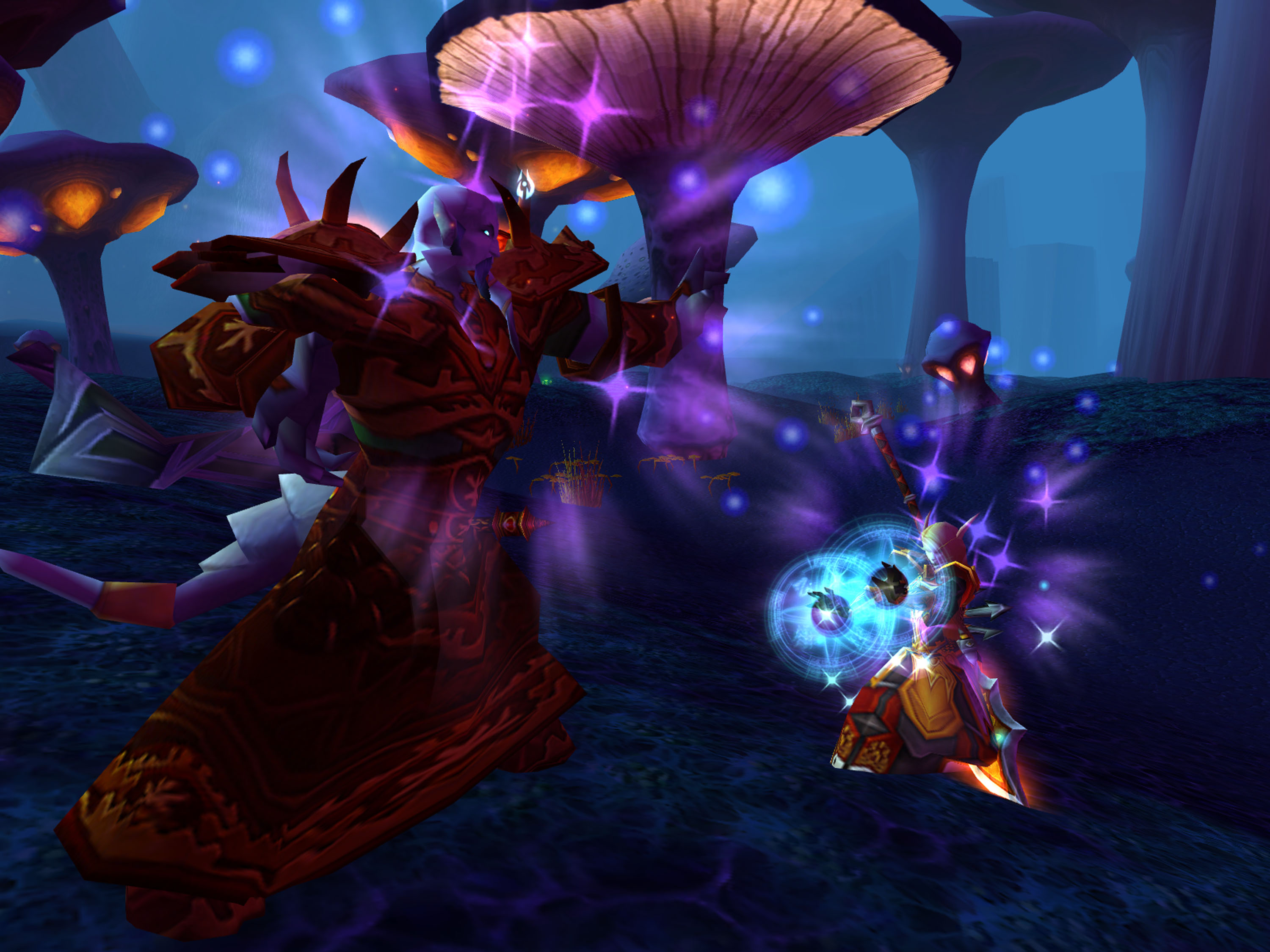 A scene from "The Burning Crusade," an expansion pack to the "World of Warcraft" online video game.
CNN.com spoke with Alex Albrecht, creator of Project Lore, a Web site devoted to "World of Warcraft" (or WoW), about the appeal of such games and what WoW fans can expect next. (Watch the video here.)
Why are MMO games so popular?
To a lot of people, playing games together with friends is much more fun than playing them alone. MMOs offer adventure and that sense of accomplishment you feel once you achieve a goal in the game. Sharing those things with your friends, as you join up to kill bosses and complete epic quests, makes those experiences so much better. And MMO's let you do that all online without having to be in the same place as your buddies.
Why WoW?
"World of Warcraft" is by far the most prominent and popular of all of the MMO games out there. There are people all over the world playing WoW because it is easy to get into, and the folks at Blizzard have created a huge amount of areas, quests, and dungeons for players to experience. They've also come up with a lot of creative in-game events that really make the world feel alive. For example, many real world holidays have in-game equivalents. Love is in the Air (Valentine's Day), Noblegarden (Easter), and Hallow's End (Halloween) all make the fantasy world more dynamic while adding some freshness to the game throughout the year. The community that has gathered around WoW is also very diverse, so it is always fun to meet new people in game.
What's new?
In the next few months Blizzard will release a new expansion for "World of Warcraft" called "Wrath of the Lich King" (WotLK). This will introduce all new quests, areas, and dungeons for us to explore, as well as a new type of character to play. There is a lot of anticipation in the WoW community for the expansion, and that is why I launched my new site, Project Lore (http://www.projectlore.com). We want to be in full stride when WotLK releases, bringing new content, videos, and guides to the WoW community. We are posting videos from the closed beta test of "Wrath of the Lich King" over the next three weeks, and we can't wait to see the response from the WoW community.
- CNN.com
Filed under: Gaming • video games