It's not every week we power up a machine and wonder about the speculations, however unwarranted, that a black hole will swallow the planet. On Wednesday morning, everyone was either utterly fascinated or fearful as the Large Hadron Collider, a $10 billion machine more expensive and powerful than any of its predecessors, started up for the first time.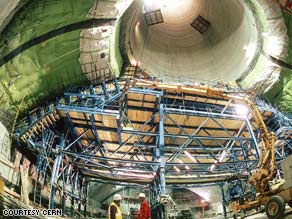 The hall for the ATLAS detector at the Large Hadron Collider.
No wonder many science enthusiasts have a crush on the LHC, which has become a world-famous celebrity. Obviously, as an object of desire and supreme popularity, the LHC offers the best of both worlds: extreme money and extreme power. It's also situated in a romantic location between Lake Geneva and the Jura Mountains.
More importantly, it will teach us new things about ourselves and our world. It can look deep inside us and find secrets we never knew existed. And it has the potential to generate black holes, though most scientists agree any of those little cosmic vacuum-cleaners would disappear in less than a second without doing any harm. Yet the doomsday rumors somehow make the LHC seem even more attractive and awe-inspiring. We fear what we love, and we love what we fear.
Among the potential perks of staying on top of the LHC's every move: a better understanding of matter. For instance, scientists think that the matter we know may only be a small percentage of what makes up the universe. Previous cosmological studies have inferred that most of the universe consists of invisible stuff called "dark matter" and "dark energy." The NASA satellite WMAP has found that atoms make up only about 5 percent of the universe, while dark matter accounts for 23 percent and dark energy 72 percent. So, 95 percent of the stuff of the universe is invisible and completely mysterious. But our hero the LHC may be able to shed some light on that darkness.
Of course, this celebrity icon hasn't made a commitment to find anything. There is always the chance that, after billions and billions of particle collisions, nothing turns up.
So now that the big start-up is over, we are left wondering, what now? For sure, we have the first attempt at colliding two beams, and the operation of the collider at unbelievable energy levels, to expect in the coming year. But will the LHC come through for us, or will it leave us broken-hearted, lost in a world we barely understand?
With thousands of brilliant scientists from around the world working on this, there's hope that all of the heartache and waiting is worth it. What do you think?
–Elizabeth Landau, Writer/Producer, CNN.com
Posted by: Elizabeth Landau -- CNN.com Writer/Producer
Filed under: Large Hadron Collider • Physics