The suit wearing, Starbucks-sipping folks who usually populate downtown Houston on a workday are MIA this Monday morning. They have been replaced with crews using chain saws to move fallen trees out of the streets, and huge trucks hauling generators and cleanup materials.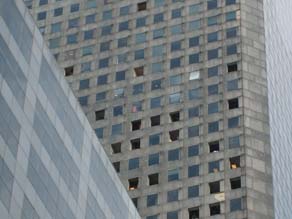 Windows blew out of high rise buildings in downtown Houston when Ike roared through. It's an eerily quiet workday this Monday. Photo: CNN
Julio Cisne, who manages a couple of buildings on Main Street, feels very fortunate.
"I only lost two windows," he said, as he swept up glass next to the Subway restaurant on the first floor. And he's luckier than the huge majority in this hurricane-ravaged region - his buildings have both water and power.
A few blocks away, three downtown workers are sharing stories and fears with each other.
Marie Elizondo works for a law firm, and waited out the storm in a Houston high rise. While the building she was in fared pretty well, she and the people she hunkered down with witnessed some scary moments watching other buildings on the block.
"We watched the glass pop out, then we saw chairs and computers just flying out the windows," she said. Shattered glass continued to fall long after Ike departed.
Mary Ann Shelvin and Marciano Leyba both have huge cleanups at home, but reported for work at Ampco System Parking.
"My daughter kept asking, 'Mom, what's that?' when she heard that wind whistling," said Shelvin. But she is proud that people are helping each other out.
"My neighborhood is trying to stick together," she said. The people on her block have moved trees and swept up limbs and leaves. But a lot of trees are on top of houses, and virtually no one has power.
Both Elizondo and Shelvin are grateful for the curfew imposed after the storm, to try to keep looters and sightseers from making a bad situation worse.
"We all work too hard for our stuff," said Shelvin.
And they have seen many random, kind acts. A TV crew let Elizondo charge up her cell phone. A local furniture company gave away ice.
It is a pleasant 71 degrees in Houston today… a welcome respite for people who probably won't hear an air conditioner click on for weeks.

Marsha Walton, CNN Science and Technology Producer, in Houston
Filed under: hurricanes