The Mars rover Opportunity has a new destination – it's turning its wheels southeast and heading for a massive crater called "Endeavour."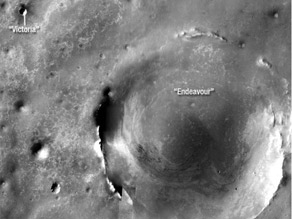 The small crater in the upper left corner is Victoria. Opportunity is located nearby. The rover will be heading southeast toward the massive Endeavour Crater. This image was taken by NASA's Mars Odyssey Spacecraft. Credit: NASA/JPL/ASU
Opportunity departed Victoria Crater late last month after spending about two years rolling around the rim and studying rock formations just inside.
Endeavour is nearly 14 miles wide and 1000 feet deep, many times larger than Victoria, and features a far thicker stack of exposed layered rocks than those studied to date. Opportunity will have to traverse about seven miles across the Martian plain to reach it, doubling the total distance the rover has put on its odometer since landing back in 2004.
Mission managers admit the trip is going to be a long haul, and the aging rover may never get there.   But if it does, the scientific pay-off, not to mention the pictures, should be spectacular.
-Kate Tobin, Sr. Producer, CNN Science & Tech
Filed under: Mars • NASA • Space