China's third manned spaceship has successfully entered orbit on a three-day mission, which will include China's first spacewalk and the release of a small monitoring satellite.
Secrecy surrounded which of the three taikonauts would take China's first step into space until Friday. However, authorities did release a photo of Zhai Zhigang, the Shenzhou VII mission's commander, putting on the "Feitian" spacesuit tailored for the spacewalk.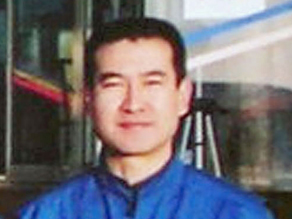 ZHAI ZHIGANG
Getty Images
The spacewalk is expected to last about 30 minutes early Saturday morning U.S. time. The spacewalker's assignment is to retrieve a solid lubricant sample attached to the spaceship surface. The spacewalk will also be a rehearsal for China's future plans to build a space station.
After the spacewalk, an 88-pound (40-kilogram) satellite will be released to accompany the orbiting spaceship. Equipped with a CCD (charge-coupled device) 3D camera, the satellite will make a visual record of the voyage, transmitting the pictures to the ground control room.
When the re-entry module heads back to Earth, the satellite and an orbital module will continue to circle the planet. There is speculation that the satellite's may be able to "attack and capture" other satellites. That ability does not appear in any of its official descriptions. Lu Jinrong, the engineer general at the Jiuquan Satellite Launch Center, denied the speculation firmly. "The satellite will serve as a medium only," he said.
The Shenzou VII sports a few advances not seen in the previous five decades of manned space flight, including advanced designs in spacesuits, and even the spacecraft's toilet. The "Feitian" (Fly to the sky) suit is touted as being more flexible than Russian spacesuits.
It's the latest in a year full of triumphs and tragedies for the Chinese people: Record winter snowstorms, a massive earthquake in Sichuan in May, the Olympics, the scandal over tainted infant formula, and now a trip to space that's part of a national target to put a taikonaut on the moon by the year 2020.
China has said there are no plans for additional manned missions in the near future. The first manned flight took place in 2003.
Chong Wu, CNN Science and Technology