For the 29th year in a row, scientists from the New England Aquarium have spent the summer observing North Atlantic right whales in the Bay of Fundy, between New Brunswick and Nova Scotia. Still critically endangered and still mysterious, there's some cautious optimism from researchers that the 300-350 animals left may be making a comeback.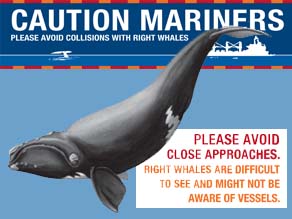 Placards like these warn ship captains to watch for slow-moving right whales. Scientists say shipping companies are getting the message off the coast of eastern Canada. Courtesy Dr. Moira Brown
"Between the recent protection measures, and the fact that right whales doubled in reproductive output in the past seven years, there is room for hope and optimism," said Dr. Moira Brown, senior scientist at the New England Aquarium in Boston, Massachusetts.
"In the latter part of my career, maybe I will be able to monitor the recovery of this species. For me to see that would be my wildest dream," said Brown.
The protection measures Brown talked about include a voluntary measure that took effect June 1, involving the Roseway Basin, a 1,000-square-nautical-mile region south of Barrington, Nova Scotia. It is a primary feeding and socializing ground for right whales. The International Maritime Organization, the U.N. body that regulates shipping activities, adopted Canada's proposal that the Roseway Bay be designated an "Area to Be Avoided," or ATBA.
Basically, ships 300 tons and larger make a slight alteration to their route to steer clear of the 70 ton mammals, during the six months (June to December) that the whales spend in those cold northern waters.
Scientists at Dalhousie University in Nova Scotia have monitored ship compliance with this voluntary measure, and according to Brown it is about 70%.
Brown said she's found a desire by many shipping companies to increase their awareness of these slow moving animals, and says average citizens have also played a part.
"I think public awareness in eastern Canada has been huge," said Brown.
The whales are also doing their part to preserve their species. The New England Aquarium team believes at least 25 calves were born this year, surviving their critical first 8 months.
"And they're looking healthy," said Brown.
Right whales are just beginning their annual 1000+ mile migration from Canadian/New England waters to their calving grounds off the Georgia/Florida border. Whale moms somehow figured out that their newborn calves have a much greater chance of survival if they are born in those warm southern waters. Most calves are born in December, January, and February.
For the 20th summer, Aquarium researchers have also gathered genetic samples from as many right whales as possible.
"We are developing genetic profiles and a life history database to add to the photo identifications we have kept for years," said Brown.
Scientists hope to learn more about the level of genetic variation in this small population, and find out more about how robust the marine mammals are. Brown estimates that 75% of the population has been biopsied.
But the whales are by no means out of the woods.
There is still no final action on a U.S. proposal to help avoid ship strikes on right whales. In August, The National Oceanic and Atmospheric Administration (NOAA) filed its final environmental impact statement on the rule, which has been languishing in the Office of Management and Budget for more than a year.
By Marsha Walton, CNN Science and Technology Producer
Filed under: Animals • environment • Oceans