Hurricane Ike went down in the weather annals as the third-costliest tropical cyclone in U.S. history. Weeks after Ike's landfall, a whirlwind of destruction can still be felt hundreds of miles inland, in the Great Lakes region.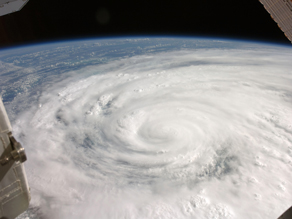 Hurricane Ike
Getty Images/NASA
Heavy rains from Ike and the Pacific Tropical Storm Lowell inundated northwestern Indiana and metro Chicago. The ground was already saturated by a stalled cold front so the increased flooding caused runoffs from streams and rivers, dumping sediment into Lake Michigan and increasing E. coli levels in the water.
United States Geological Survey (USGS) scientists have been monitoring the water in Lake Michigan after Hurricane Ike, as part of an effort to improve predictions of beach water quality.
Dr. Richard Whitman, USGS expert on beach health ,says, "The local effects that Ike had on Lake Michigan's Indiana shoreline, water depth, and water quality have been profound."
Typically after a storm, bacteria levels rise along near-shore water sources, but, Ike brought with it a slew of other problems. The flooding caused by Ike loaded up Lake Michigan with contaminants that could not be diluted for an unprecedented ten days.
The unexpected flooding also made it impossible for wastewater treatment plants to properly treat the overflow of storm water coming in. Run-off from agricultural and septic tanks all increased the E. coli levels in surrounding rivers, which then fed into Lake Michigan. At one point, river water levels during the storm got so high that they actually flooded the sewage plants.
The EPA says that E. coli concentrations of 235 CFU (Colony Forming Unit) per 100 ml of water would be an acceptable risk level for freshwater sources. At the height of its contamination, E. coli levels reached an estimated high of 1,200 CFU per 100 ml of water. In other words, an average of 17 out of 1000 swimmers could expect to get a gastrointestinal illness from swimming in parts of Lake Michigan after Ike, in comparison to the usual 8 out of 1,000 people.
USGS scientists say E. coli levels are now back to normal but the sediments in the water have yet to be cleaned up. Ike proves that we live in a fluid environment and what happens to our neighbors could eventually affect us too, be it upstream or downstream.
Azadeh Ansari, CNN Sci-Tech Unit
Filed under: environment • Flooding • hurricanes • Severe weather • Uncategorized • Weather