A Soviet space shuttle has finally landed in a museum.  After a long history and a virtual world tour, a Shuttle Buran was put on permanent display to the public on Friday at the "Technik Museum Speyer" near Manheim, Germany.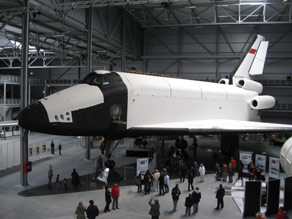 When you first walk into the Buran building you could easily mistake the shuttle for its American counterpart.  It looks almost identical to NASA's fleet, but the museum points out it's not just a Soviet copy.  They explain the similarities saying both design teams were governed by the same laws of physics, had similar goals, and Soviet designers drew on NASA's publicized research but the end products were substantially different.
The Technik Museum already had a large collection (everything from a Boeing 747 mounted high in the air, to a Cold War U boat, fire trucks, typewriters and model trains) but museum director Hermann Layher dreamed of adding a space shuttle.
The U.S. shuttles are still in use, but the Soviet Union's Buran shuttles were mothballed when funding was cut shortly after the collapse of communism.  Only one had ever been launched (unmanned in 1988), but that was destroyed in 2002 when its hangar collapsed.
One of the test models was available.  Buran OK-GLI, like the U.S. Space Shuttle Enterprise, was built to test aerodynamics for landings.  Unlike it's American counterpart the OK-GLI had 4 jet engines attached to its tail so it could take off for its test flights (the Enterprise had to be carried aloft by a Boeing 747.)
The Buran OK-GLI had been displayed at the 2000 Olympics in Sydney, then was taken to Bahrain to be exhibited, but got mired in a legal battle between its owners and the exhibitors.  The Technik Museum was able to buy it and after a long legal battle brought it to Germany.  It was first shipped by sea, then pushed on barges up the Rhine River to the city of Speyer.
In all the museum spent about 10 million Euros (about 15 million dollars) to buy the shuttle, bring it to Germany, and put it on display in it specially built hangar.  Friday a steady stream of museum visitors, including me, flooded into that hanger to see exactly what a Soviet space shuttle looks like.
–CNN Producer Aaron Cooper in Speyer, Germany
Filed under: Space