Two more teams have signed up for the Google Lunar X PRIZE.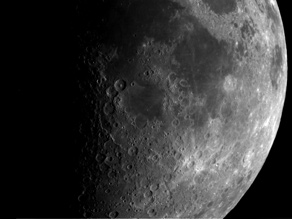 Image Credit: NASA/JPL/Space Science Institute
Independence-X Aerospace: A Malaysian group lead by Mohd Izmir Yamin.
Omega Envoy: A U.S. group led by University of Central Florida students Ruben Nunez, Jason Dunn and Justin Karl.
To win the $20 million grand prize, a team must soft-land its spacecraft on the Moon, rove at least 500 meters, and transmit video, images and data back to Earth (according to a specific set of parameters). All funding must be private. The deadline is December 31, 2012 - after that the grand prize drops to $15 million. If no one wins by December 31, 2014, the competition ends. (Unless they extend it...)
The two new entrants bring to 14 the total number of teams in the competition. The others include:
Odyssey Moon: Isle of Man-based team, working on a spacecraft called "MoonOne (M-1)"
Astrobotic: U.S. team lead by Carnegie Mellon University robotics guru "Red" Whittaker; the lander will be called "Artemis" and the rover "Red Rover"
Team Italia: Italy-based, obviously, spacecraft will be called "AMALIA"
Micro-Space: U.S. team
FREDNET: A multinational team, taking a 100% open-source approach
ARCA: The acronym stands for Aeronautics and Cosmonautics Romanian Association; spacecraft will be called the European Lunar Explorer, or "ELE"
LunaTrex: U.S. team, working on a spacecraft called "Tumbleweed"
Chandah: U.S. team, "Chandah" means "Moon" in Sanskrit; spacecraft will be called "Shehrezade"
Advaeros: Another Malaysian team; spacecraft will be called "Picard"
STELLAR: U.S. team, includes members from Insight Technologies, the Advanced Vehicle Research Center, and North Carolina State University; spacecraft will be called the "Stellar Eagle"
JURBAN: U.S. team sponsored by a research group called Juxtopia; spacecraft will be called "JOLHT"
And one Mystery Team (teams may remain anonymous until July 20, 2009)
If this all seems too, ahem, "pie-in-the-sky," remember that Burt Rutan (with backing from Microsoft's Paul Allen) won the $10 million dollar Ansari X PRIZE back in 2004 for private suborbital spaceflight. Big feats CAN be accomplished on a relative shoestring. It will be fun to watch and see if one of these groups can win big.
–Kate Tobin, Sr. Producer, CNN Science & Technology
Filed under: Google Lunar X PRIZE • Moon • Space