When powering the green car of the future, one man is turning to Fred Flintstone for inspiration. Charles Greenwood is the creator of the HumanCar, an automobile that's powered by you and me and maybe some of your friends.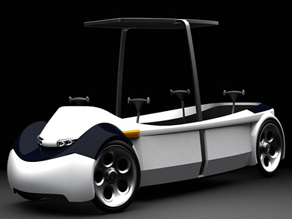 The Imangine "Urban" concept design by Stephen Brand for the HumanCar.
Rowing handles produce the electricity the car needs to move it forward. Greenwood says it's made entirely of recycled plastics and can reach speeds of up to 60 miles per hour as you row away, but he says there's also a back-up electric motor in case you get tired of rowing.
"It's just exactly like an engine firing around the four cylinder cycle. In this case, we can see we got one, two, three, four, firing around" Greenwood says as he points to four people rowing the HumanCar.
Greenwood's son, Chuck, the CEO of the HumanCar design company, says one of the designs, the Imagine_PS Electric-Human Hybrid Car can also be a source of power for your home: "Theoretically, you can operate 100 of these vehicles to create a 100-kilowatt mobile power station."
The HumanCar costs $15,500 and you can pre-order one for a $99 deposit. They are set to roll out next year on Earth Day.
What do you think? Is a human-powered vehicle a good fuel alternative? Wouldn't it be easier and cheaper to just ride a bike?
Paulo Nogueira - Producer, CNN Science & Technology
Filed under: Cars • environment