Engineers at the Goddard Space Flight Center in Maryland have hit a snag in their efforts to bring the Hubble Space Telescope back on-line after a major equipment failure in space last month.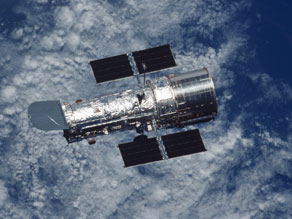 The Hubble Space Telescope. Image: NASA
Hubble's Science Instrument Control and Data Handling (SIC&DH) system went down September 27.  This is the telescope's on-board computer that coordinates commands to the various instruments and then downlinks the scientific data to the ground.
While that computer is off-line, most science observations are at a standstill.
The good news is that the computer was built with a fully redundant back-up channel called "Side B" designed to come on-line in the event "Side A" ever failed.  Hubble team members at Goddard began a complicated process to switch over to "Side B" on Wednesday. This involved sending comprehensive software commands up to the telescope to essentially take control of Hubble's suite of telescopes and other sensors  through "Side B," recalibrate all those instruments which went into safe-mode when the computer went down, start and stop gyroscopes, downlink data, and then check the data quality against some older "Side A" samples to make sure all is square.
Problems cropped up somewhere in that process Thursday night.  We haven't been told yet exactly what happened.  The team is meeting today to discuss a further troubleshooting plan.  We may get additional details later when that meeting ends.  I am told they don't expect the issue to be resolved today.
As noted, the switch-over process is extremely complicated, and it is probably to be expected that they would hit some sort of snag.  Hopefully, they will work through it in the coming days and science operations can resume soon.
Even if the switch-over to "Side B" fails (and it is far too soon to go there), the Hubble design team had the foresight 20 years ago to build a spare SIC&DH system, which has been warehoused at Goddard all this time while the original instrument perked along just fine.  Astronauts are scheduled to conduct a fifth and and final Hubble servicing mission in the February time frame, and will almost certainly remove and replace the malfunctioning computer with the spare.   That mission was supposed to fly this month, but was postponed when the failure occurred to give the ground teams time to check out the spare and astronauts time to train on the removal and replacement procedure (which is apparently a relatively straightforward, two-hour spacewalk task).
If there is any silver lining to this whole thing,  it's that the failure happened before the servicing mission - while there is still the opportunity to fix it.   Imagine the disappointment if it had happened right after the astronauts returned!
I'll update later today if and when I get more information.
–Kate Tobin, Sr. Producer, CNN Science &  Technology
Filed under: Hubble Space Telescope • NASA • Space