Workers at the Kennedy Space Center will roll the space shuttle Endeavour from launch pad 39B to 39A Thursday in advance of a mission to the International Space Station targeted for November 14.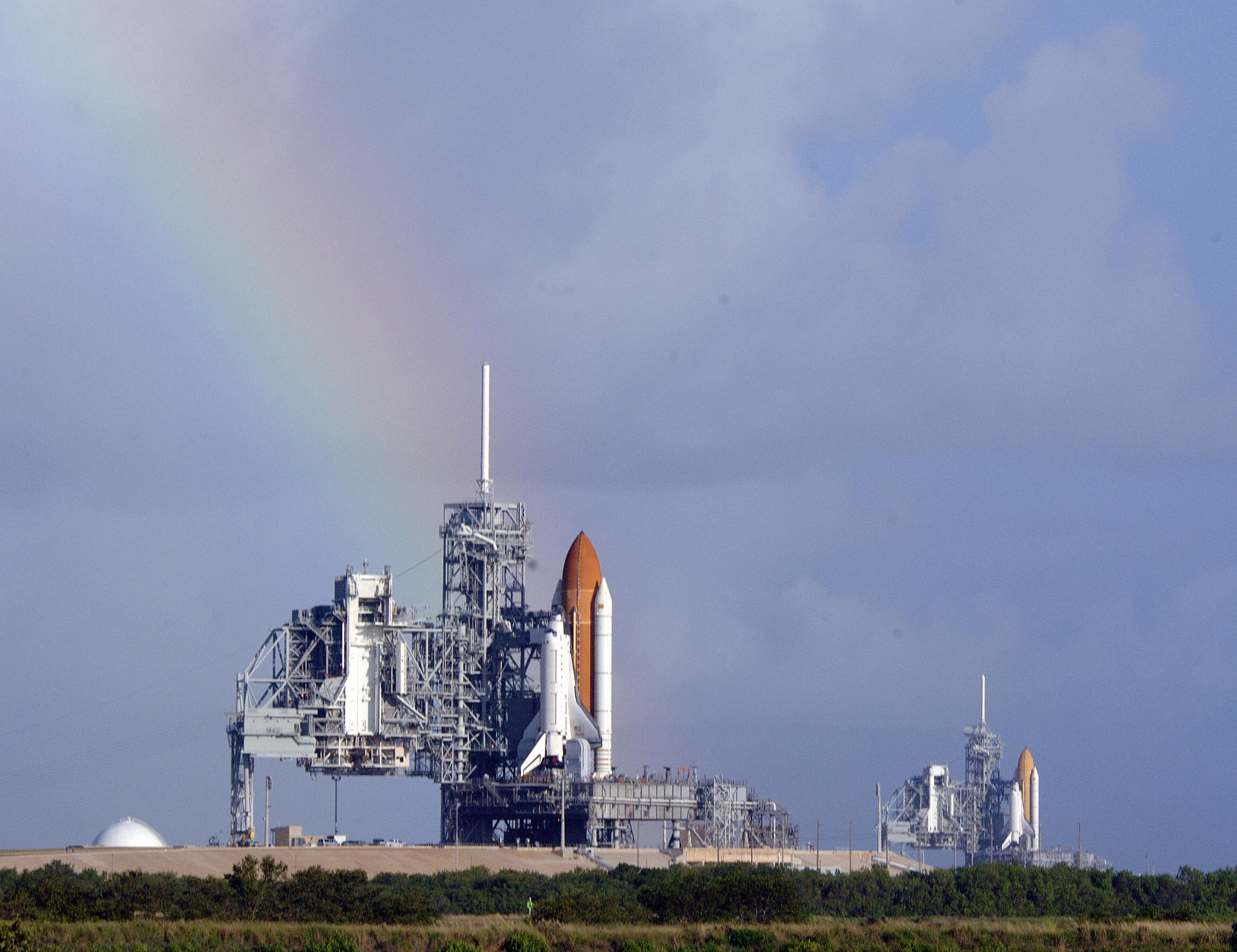 Space shuttles Atlantis, left, and Endeavour on their launch pads last month.
Endeavour has been undergoing preparations for launch on pad 39B for the past month. For a time, it was second in line for launch behind Atlantis on pad 39A, which had been scheduled to fly the fifth and final Hubble Servicing Mission this month.
A Hubble mission carries additional risk because astronauts cannot take refuge in the space station in the event of Columbia-style catastrophic damage to the orbiter on lift-off. So before the final Hubble mission was approved, NASA managers decided it would only be safe to fly if a rescue vehicle was prepared and ready to launch on very short notice. Endeavour was to have been that rescue vehicle.
The Hubble launch was postponed in late September due to a computer failure on the telescope. Mission managers now want to replace that computer - but the spare needs to be prepared for flight, and the astronauts need time to train on how to do the replacement. The Hubble mission is now scheduled to fly no earlier than February. Workers rolled Atlantis back from pad 39A to the vehicle-assembly building on Monday.
Launch pad 39B, where Endeavour is currently located, it being modified to launch NASA's next generation of manned spacecraft called Orion. While it is still technically possible to launch a space shuttle off 39B, NASA would prefer to keep the modification work underway – which is not possible when there is a shuttle parked there. So the launch team has opted to move Endeavour from 39B to the now empty 39A, and allow the construction work on 39B to resume.
Endeavour's crew, led by Commander Chris Ferguson, will carry up additional equipment and supplies to the space station that will make it possible to expand the station crew from three to six people next year.
Spacewalkers will also work on a malfunctioning rotator joint on the left side of the station that is designed to rotate and track the sun. It has been out of commission for the last year, and complete repairs will continue into 2010. But station engineers hope the Endeavour astronauts can make it functional again.
–Kate Tobin, Sr. Producer, CNN Science & Technology