Could the days of becoming half-man, half-machine be getting closer? Cyberdyne, a company just outside of Tokyo, has manufactured a robotic suit designed to help the elderly and disabled walk and go up stairs. Cyberdyne says even partially-paralyzed individuals are able to move around slowly with this device.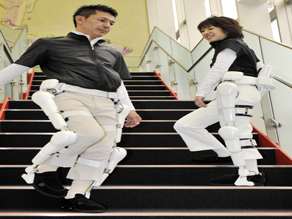 YOSHIKAZU TSUNO/AFP/Getty Images
The "hybrid assistive limb," HAL for short, attaches to a user's waist, thigh, and calf. Cyberdyne says brain signals that tell HAL to help a person walk are captured through the skin. HAL calculates how much energy the person will give towards the movement then it compensates with the right amount of assistance.
Even though HAL weighs 22lbs, the user does not have to carry around that weight as HAL is supported through its exoskeleton. The battery charge should last five hours under normal use.
HAL is currently available only in Japan. Users can choose between three different sizes. It can be rented monthly for $2,200.00 for two legs or $1,500.00 for one leg.
Cyberdyne has also designed a full robotic suit that includes assistance for the arms, allowing users to lift and hold objects they normally wouldn't be able to. A release date for this has not been announced.
One question - can't help but wonder why the company chose the names "Cyberdyne" and "HAL" - names that have less-than-stellar reputations from the Terminator movies and 2001, A Space Odyssey.
Christopher Piatt, CNN Sci-Tech Unit
Filed under: consumer tech