An anti-piracy campaign by Microsoft is having a difficult time in China. The company may face an investigation from local authorities who allege Microsoft is trying to "hack" consumer computers.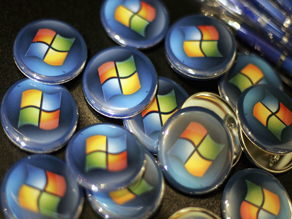 Microsoft started a global plan in August to upgrade one of its anti-piracy tools, to make a stand against bogus copies of Windows XP Professional. PCs running either genuine or counterfeit XP Pro will automatically update themselves with an authorization evaluation program. Computers installed with the phony software will thereafter display a black desktop at start-up and revert to black again in an hour even if the background is changed. A permanent notice will also appear at the bottom right-hand corner of the screen warning users to purchase genuine XP copies. However, all programs will run normally.
The campaign expanded to China last week, and induced scares and firestorms among the large PC population, which exceeds 135 million.
More than 80% of the 60,000 Internet users participating in an online survey conducted by Tencent, one of the largest Internet service portals in China, protested the campaign. They complained that it was the high price of a legitimate copy of XP that had forced them to turn to counterfeits. A genuine copy of XP Pro is priced at $376 (2,578 yuan) in the Chinese market.
A lawsuit followed. On the second day of the campaign's landing, Dong Zhengwei, a lawyer specialized in consumer rights protection, charged Microsoft with potentially sabotaging private computers. He suggested a billion-dollar fine for Microsoft.
Dong said that the anti-piracy program would "pose a threat to personal information security" and could be defined as a "crime." "It is equivalent to illegal invasion, or hacking," he said on Sina, the largest Chinese news portal. Many of the country's computer societies, IT critics and scholars also stated their agreement with Dong.
In response, Microsoft China's Intellectual Property Rights Supervisor Yu Weidong explained that this was a global campaign that aimed to educate consumers and keep them from harmful counterfeits.
The program would not affect normal functions of a PC and the company would not collect any personal information through it, he said.
On October 27, a week after the debate began, Chinese authorities made a statement that it supports any legal campaigns to protect intellectual property rights. But, "the companies should weigh their approaches and consider the affordability of Chinese consumers," said Yan Xiaohong, deputy director of China's National Copyright Administration.
Although more than 80% of surveyed Internet users in China told Sina that they would not purchase legitimate XP copies, Microsoft's campaign, in combination with promotions on Office and Vista, did push up the company's overall sales by roughly 60%. But, some free open-source software also witnessed a huge increase in sales, apparently thanks to Microsoft's crackdown.
And more experienced PC users said they had simply shut down the "automatic update" function to avoid the "black screen" desktop and additional costs.
Chong Wu, CNN Science and Technology
Filed under: computers • consumer tech • Windows