Have you ever seen a small label on electronic devices, glassware, or other products that warns you about chemicals known to the state of California to cause cancer and reproductive harm?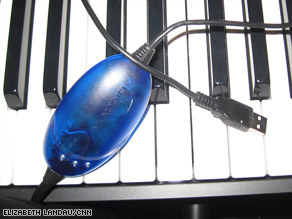 A warning label says you should wash your hands after using this MIDI device, but the company says don't worry.
I recently discovered this warning on my MIDI interface, a small device that has cables connecting my keyboard to my laptop so I can record and edit the music that I play.
(Side note: MIDI stands for Musical Instrument Digital Interface, and refers to the protocol that allows instruments and computers to communicate. If you own a computer and a musical keyboard, I highly recommend you try connecting them and playing with a program such as Apple's GarageBand. The program, coupled with the keyboard, allows your keyboard to take on the sounds of dozens of instruments, from "orchestral strings" to "Fiji afterglow.")
Great, but I didn't want playing "Falling Slowly" using "tula bass" sounds to give me cancer. So, I called the maker of the MIDI interface device, and found out that the warning is required by California law for products sold in California that contain more than a minimum amount of particular substances, such as lead. But, according to the company, M-Audio, I shouldn't worry about getting toxic chemicals on my hands.
What's inside a product with a warning label? Read more on "Paging Dr. Gupta."
–Elizabeth Landau, Health Writer/Producer, CNN.com
Posted by: Elizabeth Landau -- CNN.com Writer/Producer
Filed under: computers • Materials