It seems rain DOES make a difference when deciding an election.  As matter of fact it might have cost Al Gore the White House in 2000.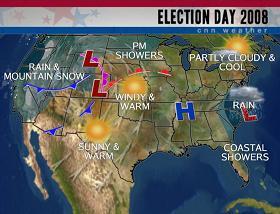 Election Day weather across the U.S. looks mostly dry - a good sign for Democrats?
According to Florida State University researcher Brad Gomez (along with Thomas G. Hansford and George A. Krause), just an inch of rain can make a big difference in a tight race.  (Gomes, who recently joined the faculty at FSU, did his research while at the University of Georgia). 
The researchers studied the past 14 presidential elections using simulated weather conditions for those dates based on data from more than 22,000 weather reporting stations. They found that while 1 inch of rain drops overall voter turnout by less than 1 percent, the Democratic turnout drops by 2.5 percent.  There was significant rain in the Florida panhandle during the controversial 2000 election when George W. Bush beat Gore by just hundreds of votes in Florida to win the presidency.  If it hadn't rained, enough additional Democrats might have voted in Florida to give Gore the White House.
Other interesting findings in the study show that younger voters are less likely to vote in bad weather while older voters are more inclined to vote rain or shine.  (Once again we need to follow the lead of our elders and vote - regardless of the weather!!!)
So where might weather play a role during Tuesday's voting?  The weather map looks pretty simple: The battleground state of North Carolina, where both the presidential race and a U.S. Senate race are competitive, will see some rain along the coast.  The rest of the eastern half of the country should be dry. Areas west of the continental divide will see some valley rain and mountain snow.
Does that mostly dry forecast bode well for Barack Obama and the Democrats this time? We'll soon find out.
 
–Rob Marciano, CNN Meteorologist
Filed under: Weather