Galapagos tortoises and finches may be the first creatures that come to mind when we think of evolution. But as intriguing as Charles Darwin's discoveries were, he didn't write the only book on evolution. In fact, a lot of books on the subject haven't even been written yet.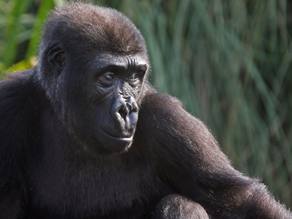 New understanding of evolutionary concepts could help humans understand contemporary problems, from renewable energy to health care. (Photo by Matt Cardy/Getty Images)
Scientists have only discovered and named about ten percent of the plant and animal species on earth.
"There's a huge amount to learn, we have not scratched the surface," said Professor David Lynn, chair of the chemistry department at Emory University.
Lynn was among organizers of an Emory workshop, "Evolution Revolution: Science Changing Life." It was aimed at high school teachers trying to rev up their students' interest in how evolution is changing our world now.
The gathering is getting a head start on celebrating Darwin's 200th birthday next year. It's also the 150th anniversary of "On the Origin of the Species," Darwin's pioneering research on one of the most important concepts in science.
Darwin described natural selection, the concept that individuals who are better adapted to their current environment have an advantage over those not so well adapted. "Survival of the fittest" is sometimes used to describe natural selection. But it's not always the biggest and toughest who win in the long run. Evolutionary fitness sometimes involves cooperation with other organisms and the ability to reproduce and pass those genes on. Researchers in scores of different fields are constantly updating this elegant idea.
"Technology moves very quickly, and even scientists have a hard time keeping up," said Lynn, professor of biomolecular chemistry. That's why the evolution workshop reached out to the community, and to people in the arts as well as science.
Understanding evolution today could help with contemporary challenges, from harnessing new biofuels to understanding communicable diseases to developing new strategies for health care.
(And before you ask, yes, the Emory scientists did discuss with teachers how to answer questions about creationism and "intelligent design." But no, that wasn't the focus of their meetings. )
Mostly, said Lynn, "Teachers were interested in the best way to teach this marvelous discovery, with questions like, 'How do I explain this concept to my tenth graders in a digestible, artistic way?'"
Hundreds of people, from students to tweedy professors to plenty of locals packed Emory's Glenn Memorial Auditorium to hear Harvard biologist E. O. Wilson's address on "Darwin and the Future of Biology."
Wilson is known as the "father of biodiversity" (as well as the guy who is so passionate about ants he wrote a 700+ page book about their behavior that earned him the Pulitzer prize for literature).
Wilson provided a glimpse into Darwin's life, including his five- year journey on H.M.S. Beagle, from 1831-1836.
"He was a 21 year old, newly escaped from Cambridge University, on a five year journey with no TV, no radio, no newspapers," said Wilson.
The world, Wilson said, was Charles Darwin's to possess. And perhaps, during his six weeks in the Galapagos Islands, came his "aha" moment. The captain pointed out that the turtles, and the finches, were different from island to island. Which got Darwin thinking, "Maybe they're changing?"
By 1838 Darwin had conceived of evolution by natural selection. In 1871 he published "The Descent of Man," applying the theory directly to human beings. But members of Victorian society were limited in their embrace of scientific theory. Most folks were okay with plants and other animals evolving. But, said Wilson, "They were scandalized by apes as OUR ancestors."
But the reason Darwin's work holds up today, said Wilson, was because he was the epitome of a disciplined scientist.
"This man was irritatingly accurate. He was very careful."

By Marsha Walton, CNN Science and Technology Producer
Filed under: Animals • Birds • Politics • Religion • Scientists • teachers