Dozens of bloggers kept their thoughts flowing during the countdown to the launch of Endeavour on Friday. Only one person did it from Firing Room 3 of the Launch Control Center at the Kennedy Space Center.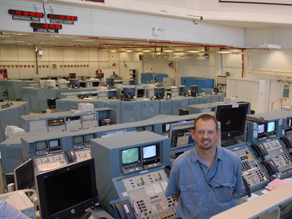 Steve Siceloff in the Firing Room the day before the launch of STS-126. His Endeavour launch blog Friday was the first written from this nerve center of the countdown. NASA photo
"It's a great environment. The only better seat would be on the shuttle itself," said Steve Siceloff, public affairs web writer at KSC.
Bloggers around the world got much of their countdown information from Launch Commentator Candrea Thomas on NASA TV.
Siceloff had a lot more raw information to process.
"I'm listening to eight different audio loops. That takes some training of its own," he said.
The rocket scientists talking on all those other channels are monitoring the orbiter, three main engines, an external fuel tank, two solid rocket boosters, and oh, a couple million other parts.
So what's the atmosphere in the firing room?
"It's actually very calm. Everybody's into their books and into their own world. They've all got headsets on so they don't talk loudly," he said.
Siceloff, who says he's been a space geek since he was a kid, used to cover NASA for the Fort Pierce Tribune and Florida Today.
He's been blogging, writing and producing for the NASA web pages for a year and a half.
Endeavour's launch blog got underway at 2:30pm. For the most part, it was a very quiet countdown.
"The launch team is working no technical issues" was a very common refrain on NASA TV.
But about 15 minutes before the scheduled 7:55pm eastern launch, we "civilians" in the NASA press room suddenly displayed the loud, rough, somewhat chaotic personality of most newsrooms.
There were a few words on NASA TV about a technical issue. Something about a door not being latched.
After miles of checklists and a near flawless countdown, could an open door stop this launch?
Here's how Siceloff handled that first flare of a problem on the launch blog:

7:40 p.m. – Launch controllers are discussing a potential issue with a door in the White Room. There is concern whether the door has been pinned back. The door in question is not on Endeavour.
(The White Room is an environmental chamber that mates with the orbiter, where the Closeout Crew assists the astronauts in boarding and getting strapped into their seats on the shuttle.)
While scores of us in the press room were on the phone with our editors with a "Danger Will Robinson… this COULD be a showstopper" tone in our voices, Siceloff said the scene was far more serene in the Firing Room.
"It was very calm, very confident, very thorough. I never heard anyone on a loop sound excited," said Siceloff. His next entry:
7:46 p.m. – T-9 minutes and counting . . . Launch controllers have cleared the door issue, saying it does not pose a hazard to Endeavour as it climbs away from the launch pad. All launch teams are go for launch.
So do rocket scientists ever get excited?
"When the shuttle clears the tower, there's a whole lot of clapping," said Siceloff.
And yes, said Siceloff, the stuff they say about rocket scientists is true.
"They really are the smartest people in the world," he said.

By Marsha Walton, CNN Science and Technology Producer