Over the years, cruise ships have been under fire for sometimes sketchy environmental practices.  But it's looking like the green movement is even moving to the aqua-blue waterways.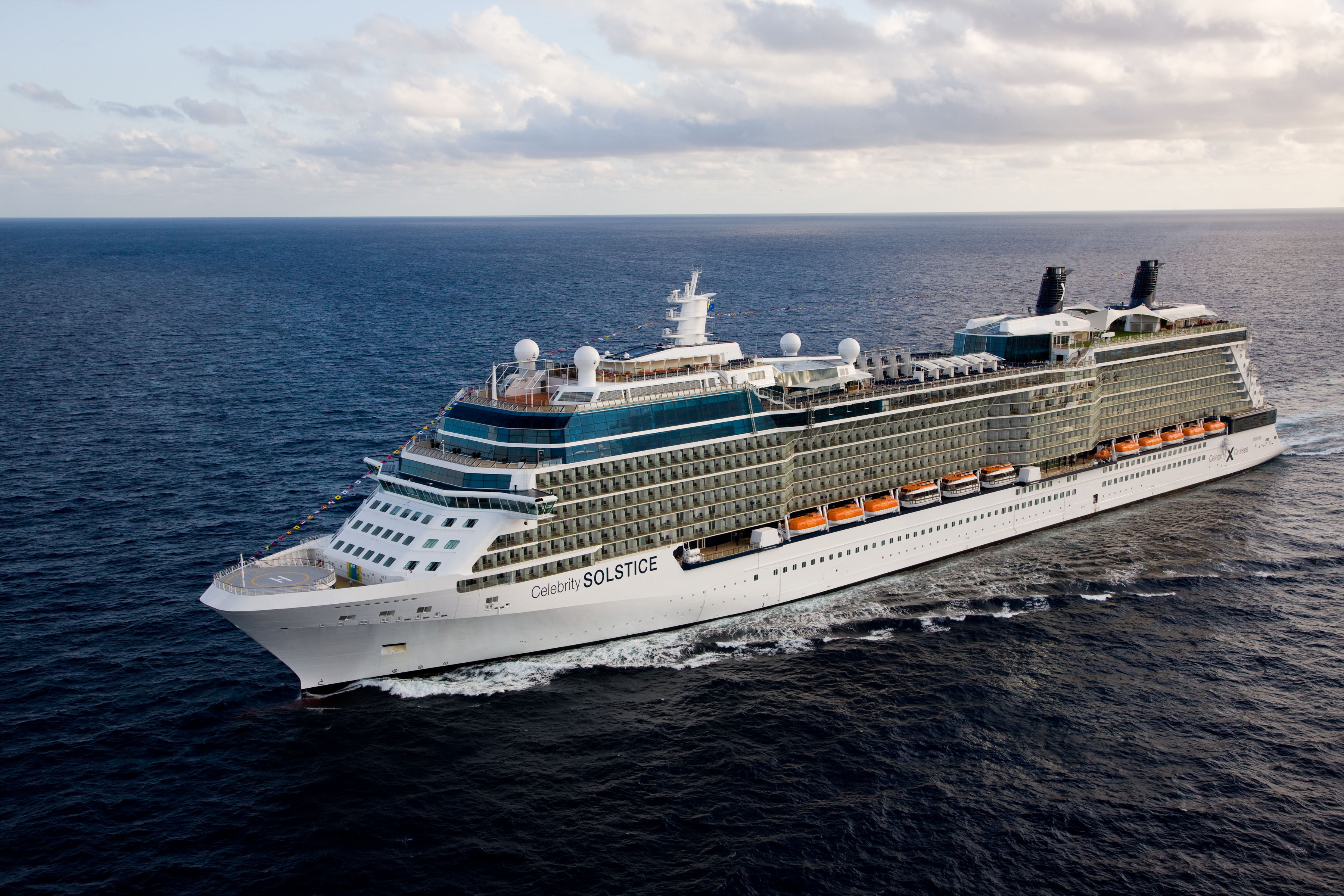 Celebrity Cruises' new ship, Solstice.
I just got off the inaugural sailing of the new Celebrity Solstice cruise ship.  This boat is big pimpin' - stylishly appointed with all the bells and whistles. But what may be more impressive than all the onboard comforts are the advances Celebrity has made to help protect the ocean.
Save the Waves is a comprehensive environmental protection program Celebrity established 20 years ago.  You might say its just PR greenwashing, but some steps they take to be green are pretty dramatic.  For instance, recycling bins for aluminum, plastic, and glass containers are a breeding ground for bacteria. The only way to prevent the bacteria from growing is to cool the containers, so they store recyclables in a massive refrigerator.
On the alternative energy front the Solstice is the first cruise ship to utilize the sun with solar panels spread out around the ship.  They don't generate a ton of juice but every little bit helps, as do the 25,000 LED light bulbs used onboard. 
What I found most cool was what they did with the hull of the ship.  The hull is coated with a non-toxic silicone to create less friction with the water.  The coating also reduces the growth of barnacles and algae on the ship, which helps reduce the chances of transporting an invasive species into a habitat it shouldn't be in.  (Like the Zebra Mussels that are creating havoc throughout the Great Lakes.)  
As for physical design, they moved the longitudinal center of buoyancy forward to create smaller angles in the aft of the ship, resulting in smoother flow of water to the propeller.   They also put a kind of reverse spoiler on the stern to help reduce drag.  More than 90 wind tunnel and water tank tests were done to help design a hull that is 30 percent more fuel efficient than older ships.  That's a huge reduction on greenhouse gases AND a huge cost savings to the bottom line.  (Though like just about any large oceangoing vessel, Celebrity Solstice still runs on diesel.   A lot of it.) 
Oh, and the ship also has a seaworthy lawn with real grass.  Its more of a novelty than an environmental initiative, but it does bring a literal accent to a ship that's trying - and succeeding - to be a little greener.
–Rob Marciano, CNN
Filed under: Energy • environment • Oceans