Okay, that headline is the only joke in this post about turning astronaut waste into drinking water.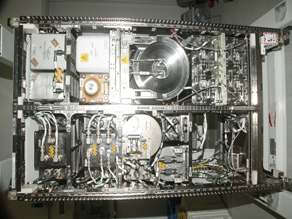 The newly-delivered Water Recovery System uses filters and chemicals to purify astronauts' perspiration, urine, and station waste water into drinkable H20. NASA photo
So please get the "yuck" factor out of your system and read on.
Among tons of equipment that the space shuttle Endeavour hauled to the International Space Station (ISS) is a new water-purification system that recycles everything - humidity, condensation, sweat and yes, even urine - into purified drinking water.
(CNN's intrepid space correspondent Miles O'Brien sampled an earth version of the H20 during his coverage of Endeavour's launch on Friday. Other than a hint of an iodine aftertaste.... he pronounced it OK.  Miles did several live shots on CNN TV, and eventually finished the bottle.)
The WRS, or water recovery system, includes two refrigerator-sized racks packed with a distiller and filters.
"We use some traditional technology, such as filtration systems, but some of the technology is unique to our operation, like working without gravity," said Bob Bagdigian of the Marshall Space Flight Center in Huntsville, Alabama. He's the project manager for NASA's Environmental Control Life Support System (ECLSS).
Each crew member on the ISS uses just under a gallon of water a day. Water is needed for drinking, brushing teeth, flushing toilets, showering, and washing hands, clothes and dishes. About two thirds of that water now comes from Russian Progress resupply vehicles, the European Space Agency's Jules Verne automatic transfer vehicle, and NASA space shuttles. The remaining third comes from a small water processor on the Russian side of the station. That system captures sweat, and other water vapor in the air as it passes through the air-conditioning system, filtering it and turning it into drinkable water.
With the planned doubling of the station crew from three to six, there's a need to look for more efficiency in handling supplies - especially water, that is plenty heavy and therefore plenty expensive to bring up from the ground.
Any long-term outpost on the moon or Mars will have no choice but to recycle liquids. So it made sense that an early version of such a system be tested on the space station. If this system works as planned, it should cut the need for water delivery by 65 percent, producing 6,000 pounds of potable water each year.
The environmental team at Marshall in Huntsville, Alabama, does more than just water purification. These microbiologists, chemists, materials, chemical, mechanical, and software engineers are part plumbers, part HVAC workers and part environmental police for the space station crew. Their systems do everything from providing oxygen and potable water to removing carbon dioxide from the cabin air and maintaining cabin temperature and humidity levels.
So how sure will the station residents be that the water is fit for human consumption?
They won't drink a drop until several samples have been flown back to Earth and are tested and re-tested.
The purification technology design also has provided assistance on Earth. Similar equipment has been used in aid centers after earthquakes in Iraq and Pakistan, said Bagdigian.
Does Bagdigian, trained as a biologist and chemical engineer, ever get tired of the bathroom humor?
He laughed. Non-scientists, especially kids, can identify with such a basic human function, he said.
"Everybody is interested in living in space and how that is going to become a reality."
–Marsha Walton, Producer, CNN Science and Technology
Filed under: environment • NASA • Space