On the eve of the busiest travel day of the year, AAA is predicting an overall drop in Thanksgiving travel.   The projected 1.2-percent dip in holiday trips would be the first decline since 2001 and 2002, the first post-9/11 Thanksgivings.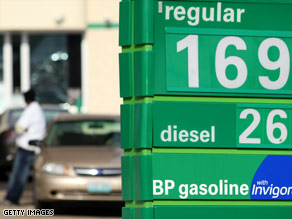 In recent weeks gas prices have fallen to less than half of what they were last summer.
But this year is also the first holiday we'll celebrate in the grips of the financial meltdown, and the first in the wake of this summer's $4-plus-a-gallon fuel prices.  It'll be interesting to see who flies, who drives, and who stays close to home over the long weekend ahead.
It's also a good time to take stock of The Year in Petroleum so far:
The gas-price spike really hit home in July, with about a three to five percent decline in vehicle miles traveled over the previous July.   The American Public Transit Association also reported that midsummer commuter bus and train trips jumped about 5 percent over last year.  (Althought the Los Angeles MTA and its commuter rail counterpart, Metrolink, just announced that ridership is back down by as much as 3 percent since mid-summer). 
The summer also saw two more correlated pieces of healthy news:
As prices rose in early '08, the National Safety Council noted a 9 percent drop in vehicle-related deaths (See, OPEC and the oil companies were just looking out for our safety!).
And the EPA reported that ground-level ozone levels (a.k.a. "smog") fell this summer in all but two major metro areas in the U.S.  Ground-level ozone is a warm-weather pollution threat, caused mainly by tailpipe emissions reacting with heat to create smog.  Fewer tailpipes on the road = less smog.   (This one may also be due in large part to very active wind patterns through the summer, according to CNN Meteorologist Jacqui Jeras).
Here in the Southeast, we've seen perhaps some of the wildest price swings in gas:  The refinery shutdowns following Hurricanes Gustav and Ike caused widespread shortages in September, and prices shot up to $4.30 a gallon in my neighborhood.   Yesterday I saw one of the same stations selling the same gasoline for $1.62.  Which begs the question:  Did you change your driving habits this summer when prices went through the roof?   And are you changing back now?
I'll start:  I'm finding it a little harder to drag myself to the bus stop and am driving more often.   What about you?
–Peter Dykstra, Executive Producer, CNN Science, Tech & Weather
Filed under: Cars • climate change • environment • Fuel • Gasoline