Ten thousand delegates are gathering this week in Poznan, Poland to hammer out a successor to the less-than-successful Kyoto accord on climate change.  But with a dizzying array of world events, from an exploding economy and U.S. presidential handoff to terrorists, rebels, and pirates in Asia and the Middle East, the world's attentions are mightily distracted elsewhere.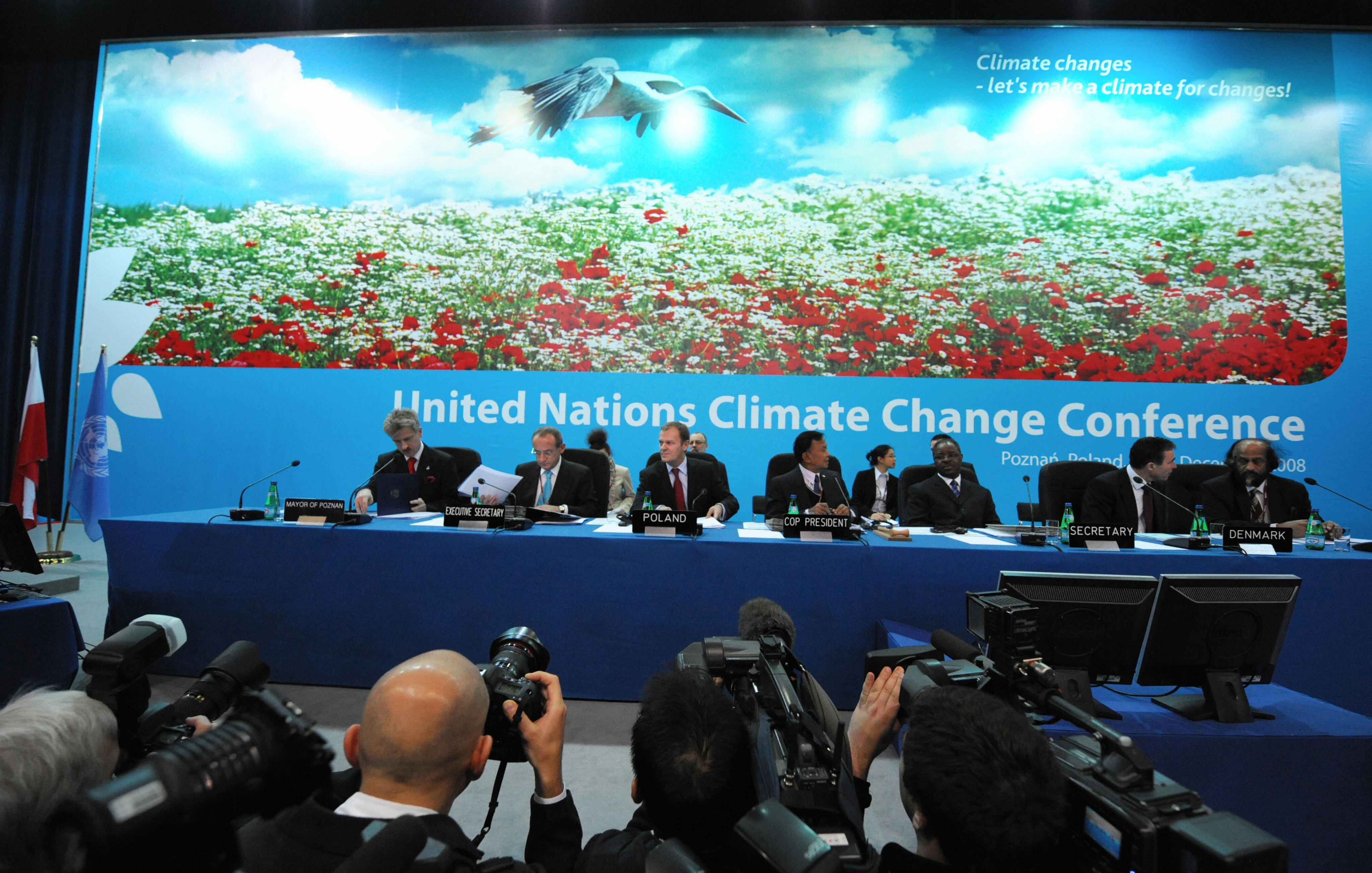 As arguably the biggest of those stories, the financial meltdown may have the most profound effect on the Poznan meeting.  "The financial crisis will have an impact on climate change. You already are seeing around the world a number of wind-energy projects being pushed back," said Yvo de Boer, head of the UN's Framework Convention on Climate Change (UNFCCC).  One of them is the high-profile U.S. effort from Oklahoma oilman T. Boone Pickens.   Pickens launched a massive media campaign calling on the U.S. to increase wind and natural gas production in place of oil imports this summer, then said last month that portions of the project were "on hold" due to the global economic turmoil.
Hosted by a nation with one of the most coal-intensive economies in the world, the Poznan meeting is the second of three global gatherings to hammer out a "shared vision" and agreement on reducing greenhouse gases to replace the less-than-spectacularly-successful Kyoto accord.   By design, Kyoto focused on industrialized nations, leaving developing-world giants like China and India on the sidelines.   The U.S. chose to sit it out as well.   Neither the Clinton nor Bush Administrations forwarded the Treaty to the U.S. Senate for approval.   China has insisted that developed nations not only need to take the first steps, but also need to provide financial and technological aid to the developing world before real climate gains can be achieved.    To date, the U.S. has been unwilling to jump in while little is asked of India, China, and others.
So, a stalemate between the biggest greenhouse culprits continues.   As scientist Mark Levine of the Lawrence Berkeley National Labs told Congress, the U.S. and China are trapped in "a vicious circle in which neither country will act boldly unless the other acts first, and neither appears willing to act first."
 
A subsequent meeting in Copenhagen next summer will set the stage for a potential agreement.  The Bush Administration has endured global criticism for its resistance to setting targets for greenhouse gas reductions.   The Obama Adminstration has promised change: A target of 80 percent greenhouse-gas reductions by mid-century. 
But the questions remain:   
Will a melting economy stop the climate change effort in its tracks?
Can Obama and successive presidents deliver on what amounts to a wholesale change in our energy strategy?
And will China and India play along?   By some measures, China may have already passed the U.S. as the world's largest greenhouse emitter.
–Peter Dykstra, Executive Producer, CNN Science, Tech & Weather
Filed under: climate change • environment