There's amateurs who post videos of their cats playing piano on YouTube, and then there's the London Symphony Orchestra. At first glance, the two have nothing in common.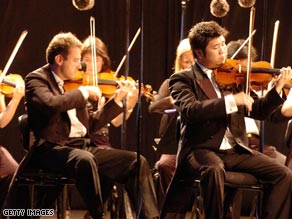 Do you have what it takes to play in a real orchestra? Photo: Sydney Symphony Orchestra.
But now, the popular video site and the renowned orchestra are teaming up to search for musical talent through the YouTube Symphony Orchestra. The grand prize: performing in a live orchestra concert at Carnegie Hall in April 2009.
YouTube says anyone can audition for the project, which the site touts as the "first-ever collaborative online orchestra." In fact, Academy Award-winning composer Tan Dun, who wrote music for the film "Crouching Tiger, Hidden Dragon," has written a new piece specifically for you to play. Just submit a video of yourself playing his new song, and another video of yourself performing one of several public domain pieces that the site suggests.
The site will even help you learn the music. Simply select your instrument from a drop-down menu - violin, marimba, and vibraphone are among the many options - and play the sheet music provided while watching a video of a conductor.
YouTube says it's partnering with orchestras, music schools and organizations around the world for the initiative. Partners will do demonstrations and given classes, as well as provide recording spaces for the videos.
The chosen musicians will be determined by a combination of professionals and public voting. A judging panel will look for "interpretation of the music, musicianship, vitality of
performance, originality of performance and evaluation of the performance as
a whole," according to the official rules. The panel will choose the finalists by February 14, and then YouTube users can vote for the ones they like best. If you're a lucky winner, you will get a message through your YouTube account by February 24.
So, dust off that violin bow and set yourself up on youtube.com/symphony. Deadline for video submissions is January 28.
–Elizabeth Landau, Writer/Producer, CNN.com Health
Posted by: Elizabeth Landau -- CNN.com Writer/Producer
Filed under: Internet