You've trained hard for years. Many champions have fallen from your devastating finisher. Now new challengers and obstacles stand in your way.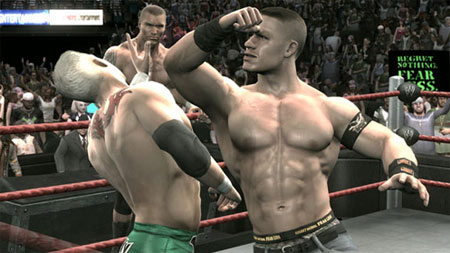 Kofi Kingston talked to CNN about his role in the new video game, "WWE SmackDown vs. Raw 2009."
Welcome to "WWE SmackDown vs. Raw 2009," the newest installment in the pro-wrestling video game series. Released last month, the popular game features more than 60 playable superstars and many new features that have never been offered in a WWE video game.
Players can select between such wrestlers as John Cena, HHH, Chris Jericho, CM Punk and the Undertaker and follow them on a story-driven path to the final showdown at WrestleMania 24. If the roster of 60-plus superstars doesn't satisfy your needs, game developer THQ will make new wrestlers available via download by January 31.
THQ also put a heavy emphasis on tag-team wrestling for this edition of the game. Thanks to several new tag-team moves, you can now make a hot tag to your partner who will come in and clean house.
CNN spoke with wrestler Kofi Kingston, one half of the World Tag Team Champions (with CM Punk), regarding his first-ever character in the game.
"It was one of my career goals to be in a video game," said Kingston, who is pleased with the amount of detail shown to his character and his mannerisms. "I personally did not do my own motion capture of my moves, but they did do a body and facial scan."
Kingston has long been a fan of wrestling video games, and "WrestleMania 2000" was his favorite. "I would use the Create-a-Wrestler feature to make myself, and fight through career mode with it," he said.
One of Kingston's favorite new modes is the Inferno Match, in which wrestlers can throw your opponent onto a fire. Don't worry, though - they don't burn for long. Crews come by with fire extinguishers.
"WWE SmackDown vs. Raw 2009" also boasts two new customization features. With Highlight Reel, a player can record a match, edit it and then share it online. With Create a Finisher, a player strings several animations and moves together to create the ultimate finisher.
Kingston does have one suggested addition for next year's game: The Championship Scramble match that occurred at this September's 'Unforgiven' pay-per-view event. The Scramble is a 20-minute match involving five superstars; whoever scores the last pinfall or submission at the end of the 20 minutes is the champion.
Kingston says he isn't the only videogamer in the WWE. "There are a handful of us that are hardcore gamers. We used to bring an X-Box 360 on the road with us. The hotels wouldn't have the proper connections so we would go and buy a small LCD TV to play on. We would be up playing video games instead of sleeping."
All that practice may come in handy for Kingston as he competes in THQ's 7th Annual Smackdown vs. Raw WrestleMania Weekend tournament in March. Last year he took second place.
–Christopher Piatt, CNN
Filed under: Uncategorized • video games