My love for technology began in 1988 when I enrolled in my high school's radio production class. Yes, my high school had its own radio station. How perfect was it to be doing air guitar while listening to stacks and stacks of my favorite vinyl records –- and getting class credit? The science of radio hooked me from the start. It was accessible. It was fun. It was the coolest thing I'd ever seen. That is, until a few years later when the World Wide Web arrived.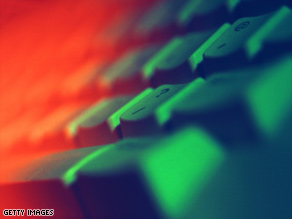 What are your favorite Web sites of 2008?
Oh, Internet. How I love thee. You have given us so much this year. And I'm not just talking about that webcam of the puppies. But as those dogs in a box and so many other time-wasters sucked up so much of your life, there were so many other Web sites that you probably missed. Here are five of my favorites you should visit before the credits roll on 2008:
Grooveshark.com: Free streaming tunes. But here's the kicker: You can buy any track you want and part of the proceeds goes to the artist, while part goes to the registered user who uploaded the track.
Instructables.com: The ultimate how-to on the Web. Fun, relatively easy instructions on making everything from gift bags from cereal boxes to animated LED snowflake window decorations.
Safesurfer.com: Teaches kids safe surfing habits while trying to keep things fun. Blogs, games, computer shortcuts. It's all there. Parents will learn a lot, too.
Gasbuddy.com: Gas prices are pretty low now. But who are we kidding? They'll be frustrating us sooner than we can say "fill 'er up." Gasbuddy.com gives you real-time prices from some 750,000 volunteer price spotters.
Etsy.com: Handmade, one-of-a-kind items of all sorts. And if you're hip to the DIY scene, you can sell your wares here, too.
Now it's your turn. What Web sites could you have not done without this year? Submit yours here!
- Stephen Walsh, CNN.com
Filed under: computers • Gasoline • Internet