It's a bird! It's a plane! It's Water Bullet!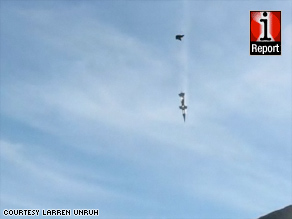 iReporter Larren Unruh submitted video of a test drop of the MX-311 Water Bullet.
Larren Unruh sent iReport.com a cool video of the test drop of a device called the MX-311 Water Bullet, a high-impact safety harness. Watch the video here.
Inventor Maximus WillHammer has spent the last five years working on it, motivated by what he considers a lack of understanding in the safety industry of the needs of today's tradesmen.
The aircraft was designed around the idea of finding a safer way to bring data or humans back from space. The video shows WillHammer's unmanned test drop earlier this month at the Arrowrock Reservoir outside Boise, Idaho. Check out Willhammer's Web site for more on how it works.
Tell us about a technology breakthrough, and your video could be featured on this blog.
- Stephen Walsh, CNN.com
Filed under: Aviation • Physics • science